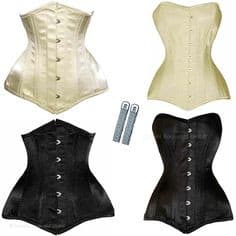 Waist training trend is becoming more and more popular day by day. Waist training lets you reduce your waist size and give prominence to the waist curves. All this is done with the assistance of waist trainer or corset. Women use this garment to give their waist a great shape. But there is a substantial question: how can you train your waist efficiently? Before you start your journey of waist training, there are two things to keep in mind: choose your right waist trainer and train in a healthy and safe way.
[Read more about Waist Trainer]
Make Sure You Get The Right Size
Constant compression on the waist area will result in body shift. The more your body is compressed, the faster the results are. However, Poor fitting corsets will not only make you feel uncomfortable, but they also won't bring quick results. For this reason, you need proper guidance to make it work efficiently because this garment is available according to different body types and are in various sizes. To get the right size, you require some measurements.
1. How to Measure?