A corset is used to reduce the waist. There are many corset types available in the market. One of the key features of the corsets is its support and firmness. Before going to use corsets, you might have to understand three main things about it, and that are:
How Committed You Are To A Waist Training Regimen
First of all, you have to clear your mind that why you want to wear waist trainer and what type of effects you want from it. If you need to wear waist trainers under the clothes then, you must know under which clothes you have to wear it. Suppose you are wearing it for a short time, then you have to choose from a particular type of corsets. Otherwise, if you have to wear it all the time, then you need to get different kinds of corsets in your wardrobe.
For different types of routines, you need to get a particular type of corsets. You must set a plan in your mind to wear a waist trainer. We would suggest you make a plan and then follow it properly if you want to get required results. The results would depend on how committed you are to a waist training regimen. When you are committed to an everyday plan, then you have to get 2 or 3 waist trainers to change through your closet. If you are not committed to a routine, then you might only need one waist trainer.
What Is the Right Sized Waist Trainer For Your Body Type
If you want your waist trainer to look perfect beneath your apparel, then you must get the right sized waist trainer for your body type. You first get to know about your body type and then try to choose a waist trainer. Each body type is different and unique. Cinching of the waistline would better highlight your bust and hips and give you the curves. If you already have a curvy figure, then a waist trainer will provide you smooth and controlled curves. When you select the perfect waist trainer for your body type, then make sure you know how to wear it correctly. A right-sized waist trainer would surely enhance the curves you have. If you do not wear a perfectly fit waist trainer, then you will not be able to get the most satisfying outcomes.
1. The Apple Shapes
The round figure will have an inconspicuous waist and carry more weight in the middle. So your primary goal is to slim and define your waistline.
Best corset style recommended: Underbust.
Underbust corset is a perfect choice for women with a round body shape as it focuses on the waist and hips.
2. The Straight Figure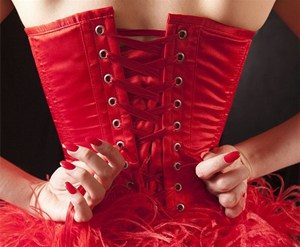 Straight body type tends to have fairly balanced shoulders and hips that need to create curves in the waist.
Best corset style recommended: Underbust or Waist Cincher.
3. The Hourglass Shape
In general, hourglass figures carry weights in the buttocks and chest and have a relatively small waist. As you 're an hourglass body shape, you need corset with a curvier shape to perfectly fit your natural curves.
Best corset style recommended: Long underbust.
4. The Inverted Triangle Body Shape
The characteristics of the inverted triangular shape are wider shoulders and narrow hips, and the weight tends to gather on the chest.
Best corset style recommended: waist cincher.
5. The Pear Shapes(Triangle Body Shape)
The tangle body shape has a smaller upper body and wider hips. If you have a narrow rib cage and slender shoulders, then Gentle Silhouette Corsets would be an excellent choice.
Best corset style recommended: Long Underbust.
What Are Your Style and Fabric Preferences
You must consider your style before picking up a waist trainer. It is quite complicated to figure out under which dress you need to wear waist trainer. Before pairing up your style clothes with the waist trainer, you need to take into account the following things:
1. Fabric
If you are wearing thin and light materials then the hooks of your waist trainer will be visible. If you wear thick or heavy clothes, then it will not be visible.
The main fabrics include:
Top advantages
Linen is breathable and durable, it can withstand the necessarily repeated washing and can be worn close to the skin. Also, it has a natural texture. Most importantly, it is affordable.
Top advantages
Cotton is the most durable and most durable fabric for a corset; it stands up to repeated washing and can be bought in any store. At the same time, It is very cheap.
Top advantages
If you plan to hide your corset under your clothes, we highly recommend you to choose the satin fabric. This smooth, well-breathed fabric can be perfectly worn under your clothes.
Top advantages
The mesh corset can create a beautiful silhouette, and because it 's a breathable mesh, thus it 's perfect for summertime. You can also make some style by wearing it under or over your clothes.
Top advantages
If you want to create a gorgeous, graceful look, then a brocade corset should be your primary option. It is a thick polyester blend and is more elegant than regular fabrics.
Top advantages
Leather corsets are stronger and can be wonderfully matched with tees, shirts, and dresses. However, leather corsets can get a bit hot, so before wearing it, ensure they're lined with cotton or another breathable fabric.
2. Color
Are you going to wear dark or light color clothes? If you are going to wear bright color clothes, then waist trainer will be visible. If you are wearing dark clothes, then it would not!
3. Cut
What are you going to wear, tight clothes or loose ones? If your dress cuts are made from lighter fabrics, then waist trainer will be noticeable. It is not a good option to wear waist trainer under your crop tops.
How To Wear A Corset Under Everyday Clothes
Firstly you have to select your favorite clothes. Is it a pair of jeans and T-shirt? Alternatively, is a fancy dress gown or sleeveless garments? Well, for each type of clothes you can wear a corset. You can wear a corset under everyday clothes. It does not matter what your style is; you can get a fit corset for yourself to look and feel good.
Corsets are all about looking awesome under your formal or informal wears. On the other hand, different people do not feel comfortable when they wear a corset. They only wear a corset for a given moment and then put it off to relax. While some people love it a lot and wear it all the time always to look perfect and slim. Fortunately, there are some methods to wear a corset under your everyday clothing whether you select jeans, leggings, trousers, skirts or pants. Check out these plans to follow the trend:
1. Corset With Jeans
Proper corsets will stay on the top of your hip bones. Thus, it means that any high waist jeans will button in your abdominal section. It is not going to be a good choice. You have to look out for jeans that stay a bit lower or contain a stretchy waistband. Some people assume that stretchy jeans are just for the pregnant women.
However, it is not the truth. If there is any overlapping among the base of your corset and the top of your jeans, then you have to change the position of it. You need to put your corset on the top of your waistband instead of tucking it in. Otherwise, it would quickly bend the steel bones and damage your corset. If you find that the combo of your jeans and corset is just coming out like a muffin top, then you need to seek to layer with the shapewear. If you want to enhance your beauty with this combo, then wear a tank top on liner beneath your corset. It will keep you comfortable for a long time. Furthermore, it is also good to choose spandex. It can easily smooth out that unlikeable pudgy.
2. Corset With Trousers
Like the jeans, trousers placed lower on your waistline are going to look good when you are wearing a corset under it. The next thing to consider is the wide waistband. It will surely help your hips with extra support and comfort. There are many wide waistband trousers available in the market which are quite skinny or have the flair or the crop styles. Thus, you might have numerous options. A trouser can be worn with a blazer as it is quite trendy nowadays. It will be prominent the tiny waist which you want to show after dressing in a corset!
3. Corset With Leggings
Leggings can become a sensitive subject because they are of different types. Some leggings are like pants; some are like gym wear and some like pajamas. A woman loves to wear a legging of her choice. If you are going to wear a corset, then pair it with a legging as you want to stay comfortable. Leggings usually have a small waistband. Due to this reason, it must tuck neatly beneath the baseline of your corset.
You do not have to wear joggers and other soft pants that will tie around your waistline. Otherwise, your waist will look bulkier. When you are wearing crop ankle leggings, then it will look perfect with blazer and heels. Also, the full-length leggings will look perfect under the long shirt, dress or skirt. You can wear a pair of boots and flats with this combination.
4. Corset With Skirts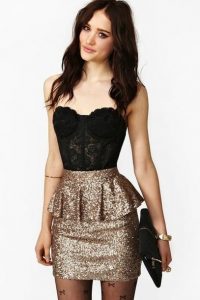 When you are going to wear skirts with clasp, buckle or zip closure, then you have to find skirts as comfy as those with the stretchy waistband. Corsets would surely go with the stretchy band skirts. Fortunately, Maxi skirts are one of the most popular items at present. You can wear these skirts with a pair of sandals in summer seasons. In the winter season, they will look perfect with a pair of boots. You can also wear any legging or tight under it to save yourself from cold. Skirts with a tulle or crinoline are easy to wear with the corset. These will make the skirt puffy and highlight your hourglass figure. If you want to emphasize it more, then you need to add a waist belt or button-up sweater.
5. Corset With Dresses
You can wear a corset with a wide range of dresses. If you are going to wear a skirt with corset, then you need to have a waist belt. You can opt for an empire waist dress which might congregate under your bust. Also, it would flow loosely over your midsection and thighs. On the other hand, there is a downside to it. This style will not show your hourglass figure. You can comfortably wear the corset with flouncy dresses that have straps or neck halter. You can also couple up corset with v-shape neckline dresses.
[Read More about Stealth Corseting]
Tips For Wearing The Corsets Under Everyday Clothes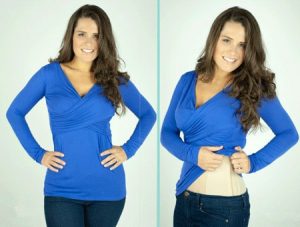 Corsets are present in various styles. For the different dress, you can opt for a different corset. Here we will discuss some methods and tips might help you in wearing the corset under your everyday clothes. Some of the effective and advantageous tips are:
Corsets are present in various styles. For the different dress, you can opt for a different corset. Here we will discuss some methods and tips might help you in wearing the corset under your everyday clothes. Some of the useful and advantageous tips are:
You have to consider shapewear option in case you are going to wear a thin material or light colored dress. It is a good alternative because it will not be evident under your dress. There are a lot of seamless waists slimming clothes that will also offer compression around the waistline without showing up. You can choose the shaping pants, high waist shaping leggings or even the body suits.
You have to choose a no-closure corset. It would not have any of the seams or hooks. Thus, it will not show up through your apparel.
You need to make sure that you are selecting a color and pattern that would not allow the corset to become evident. There are various styles of exercise bands that are crafted for showing off at the gym with awesome printing designs.