What Do People Wear Waist Trainer for?
Waist training is also referred to as "waist cinching" which became popular in Europe and later in America. Waist training is a modern trend in our new generation due to the celebrities and models who encourage us to look slim and smarter by wearing a waist cincher. Waist trainer is a constricted garment such as shapewear or corset which helps in the reduction of your waistline size. Waist trainers are worn by women to boost up their confidence and appear slim along in an hourglass shape. It helps women to eat healthily and exercise daily. Waist trainers help in reduction of waist size by the consistent wearing of this garment. You should wear your waist trainer, as much time as possible which helps in achieving desired results. Women wear corsets for posture and back support along with fashion statement.
There are a variety of waist trainers available in the market. Waist cinchers are made up of either latex or cotton fabric. Waist training helps by molding the corset shape according to the human body. The steel boned corsets are preferred more than the plastic ones because they are more durable.
[Read more about Steel Boned Corset]
Benefits of Wearing a Waist Trainer
Waist training has two type of advantages physical benefits and mental benefits.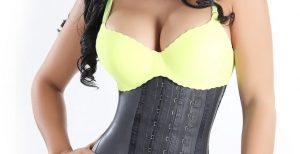 Physical Benefits
There are numerous benefits of wearing a waist trainer to which many women are attracted.
1. Help to Whip Your Waist into a Smaller Size
Waist cincher has an internal lining made up of plastic or steel strips also referred to as "boning." The waist cinchers have strips which act as supporting structures. When you tightly lace the garment the boning creates an hourglass shape figure by compressing your body. Fat, fluids and skin are squeezed which gives a slimmer mid-section appearance.
[Read more about Waist Trainer]
2. Contribute to Restrict your Movement to some Extent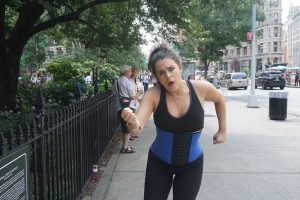 Waist cinchers help to limit your movement to some degree. Hence you should accommodate the rigidity of your garment by bending properly. As bad posture and slouching are impossible while wearing a properly-fitted waist trainer who is metal-boned. Waist cincher leads to elimination or alleviation of back problems which occur due to improper support and poor posture. Extra support is provided to women while wearing a waist trainer.
3. Back & Spinal Support
Wearing corsets helps you in back strengthening and aids you with any hip injuries. Wearing corsets assist you in the prevention of disorders such as arthritis of fibromyalgia. It also helps in the prevention of osteoarthritis. Waist trainers provide fantastic and conditioning support to your body.
4. Contribute to Get the Most out of Your Workouts
Waist trainers help in the prevention of lumbar injuries especially in people such as mechanics, carpenters, and nurses who have difficult jobs and need to stand out most of the hours of their job. As they need to do much lifting and bending, so they require support from waist trainer. Wearing corsets is also promoted by athletes in multiple sports such as bodybuilders and runners have incorporated corset wearing which helps them to warm up during exercises. Waist trainers are also encouraged by swimming coaches to wear it while swimming which contributes them to be more competitive and in better form.
Women after giving birth use a unique type of corset to prevent diastasis recti which are the muscle separation which occurs at the mid-section level in the pregnant women. Women who work out after giving birth also utilize waist corsets because it helps them feel comfortable and provides extra support at the waist level. It cinches the waist at the midsection region and contributes to conceal the post-pregnancy weight gain so that you can confidently move in public. After birth may women undergo depression about returning to their previous smarter physique for which they can utilize waist trainers to shape up their uterus, hips, and tummy? A waist corset encourages these women to practice their routine activities along with building up their confidence levels with pain relief in muscles and back.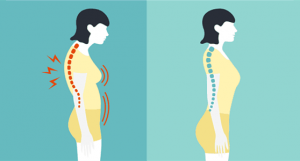 Individuals can correct their posture while wearing waist trainers. You can manage scoliosis and prevent your back curves from being prominent. A change in body structure is seen in patients with scoliosis as soon as they start wearing corsets. Patients with plantar fasciitis also found relief in the pain by wearing corsets. People achieve strong abdominal muscles while wearing waist trainers for a long time which helps them with good posture. The boning material either elastic or rubber of the waist trainer provides the wearer with additional abdominal support which allows the individuals to sit straight all through the day and avoid overeating. Abdominal core muscles are activated by people who help them to achieve good posture.
7. Support Your Bustline
Apart from accentuating your sexy body shape and hourglass figure, waist trainers can also support your bustline, which is very beneficial for women with large breasts as it helps reduce back pain.
Mental and Emotional Benefits
1. Help Control Food Cravings
Waist cinchers promote the individuals to alter their physiological perception of their body along with weight loss. Wearing corsets motivates the people to feel thinner and prevents the midsection from getting larger. Individuals who wear corsets are less prone to overeating due to which weight loss occurs over time. Waist training pulls the stomach encouraging the people to avoid fat meals. Waist cinchers help the women to eat small portion by compressing the stomach area. As soon as you avoid eating large meals, it promotes your weight loss.
2. Assist you to Build Self-confidence
Corsets help in the construction of self-esteem by cinching the waist at the midsection level. Individuals feel confident and peaceful in mind which helps them to face the world.
1. Limit Your Capacity to Breath
Cinching your waist at the abdomen level pushes the organs upwards by squishing abdominal organs such as intestine, liver, and kidneys. This upward movement of the body reduces the lung capacity which causes difficulty in breathing along with discomfort while exercises. The rigidity of the steel boned corsets prevents lung expansion and reduced movement. Constant compression by waist cinchers may lead to suppression of lungs. The quality and depth of breathing are affected if you wear the corsets during a workout which reduces the intake of air at the lower rib level. All of this occurs due to the constrained movement of the diaphragm. You also reduce the oxygen consumption by wearing tightly laced corsets which result in lightheadedness, breathlessness and further fainting.
2. Muscle Weakness & Atrophy
Most common problem with waist cinchers is that it causes gastric walls atrophy along with visceral displacement and reduced tone of abdominal muscles. Overuse of waist trainer leads to the muscle atrophy of abdomen and back region. If you consistently wear a waist trainer, it will cause back and abdominal muscles to become weak and stiff with time after which they will result in atrophy of muscles.
3. Skin Irritation
Skin irritation is seen in many individuals as soon as they undergo waist training. This itchiness occurs due to the heat and perspiration while waist training. Other reason for skin irritation may be an allergic reaction to the latex material. The ultimate solution to this issue is that you should start wearing waist trainers made up of different materials which include nylon and cotton. Friction occurs due to the direct contact of corsets with the skin which leads to this irritation, so You are advised to wear liners or tank tops before you apply the waist trainer. Sore spots and chafing are common signs if you wear the corsets directly. Moisturize your skin with lotions to prevent any allergic reactions or sore spots.
4. Aches & Pains
Constant use of waist trainer leads to the compression of spinal nerves which are in direct connection with a brain which leads to increased sensation towards pain and leads to headaches. Waist trainers apply constant pressure in the stomach, rib cage, abdomen and pelvic areas which result in organs compression leading to blood clots; fainting fits, anemia, numbness, bruising, miscarriage, digestion, and infertility problems among individuals. This constant compression causes pain and discomfort.
5. Dehydration
During the waist training process, you may notice dehydration due to the increased body temperature and excessive sweating. To minimize this symptom, you should drink plenty of water every day while wearing a waist trainer to stay hydrated.
[Read more about Waist Trainer]
Tips to Get the Best Results
Buy waist trainer at the correct size.
Take photos every week to track your progress.
Stay hydrated.
Don't forget to exercise, including cardio and strength training.
Slowly jump into your waist training and wear the waist trainer no more than 8-10 hours a day.
Eat nutritious food throughout the day.
Eat less, but don't go on a diet.
Purchase two waist trainers.
Wash your waist trainer by hands in cold water, and never put it in the dryer.
Lay the waist trainer flat to dry, or hang it on a lingerie hanger to air-dry it.
Use a specially formulated lingerie detergent or mild baby shampoo to wash your waist trainer to avoid damaging its texture and material.
After the waist trainer is completely dry, place it flat in your drawer or closet, do not roll it up or expose it to light. You can also choose to hang it with a lingerie hanger to maintain it's shape.
Conclusion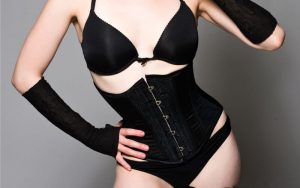 Waist trainers will not help you achieve the permanent effect on your shape, size, and appearance. They will help you appear slimmer on a temporary basis while you are wearing it which causes some health risks along with discomfort. To achieve tighter abs along with strong core muscles you need to do exercise such as planks or crunches along with proper diet. Only waist training will not help you achieve the desired results. You should start wearing waist trainer slowly and gradually increase your period as soon as you become used to it. You should wear a proper size of waist trainer and work upon your core muscles to strengthen them. Wear your waist trainer continuously every day to achieve the desired results. You should stay hydrated adequately while wearing waist trainers to prevent water loss through sweat.
Alongside wearing a waist trainer make sure to keep a proper diet and do adequate exercise to achieve the desired body shape. Diet should comprise proteins, fibrous vegetables, fresh fruits and unprocessed items. Exercise is a must while wearing a waist trainer because you cannot rely on waist trainer only for best results so you should include planks and crunches. It is advisable to wear corsets under doctor's supervision and take it off immediately if you feel any discomfort, pain or breathlessness. Body fat cannot be reduced overnight so you should practice exercises, diet and along with these utilize waist trainers, and with time you will feel the difference.