The urge of looking slimmer and beautiful has always been a part of celebrities' life. They keep trying new things to maintain their bodies in shape and contoured. It is a universal phenomenon that anything used or followed by celebrities become the norm of the young generation, and one such trend that has gained its popularity through Hollywood stars is waist training. It is not a new trend at all; rather it was once popular back in 16th century. It was demolished because of its hard nature, and now it is again back with a bang. The credit for bringing this trend back goes to Hollywood celebrities and mainly to one model whose is a mother of two and majorly famous for her hourglass-like figure. Following this trend, many young and old ladies and other celebrities have started waist training crazily to look perfectly slim. Preferably waist training corset is worn at post-partum period by celebrities when they badly want to get their previous body shape.
By looking at the level of interest, the Hollywood is following this trend seems like it has even surpassed the tradition of using these corsets. These Hollywood stars try to get slimmer waists and hourglass shape. Even a model has stated that she has used double corsets and that too both day and night time to get a perfect figure. Waist training through corset trend seems painful and hard to go through, but, once any trend gets started by a celebrity, it becomes a convention and then spread in the young generation like a wildfire.
[Read more about Waist Training]
How Did they Start this Waist Training Trend?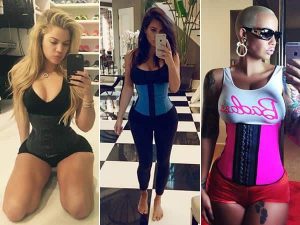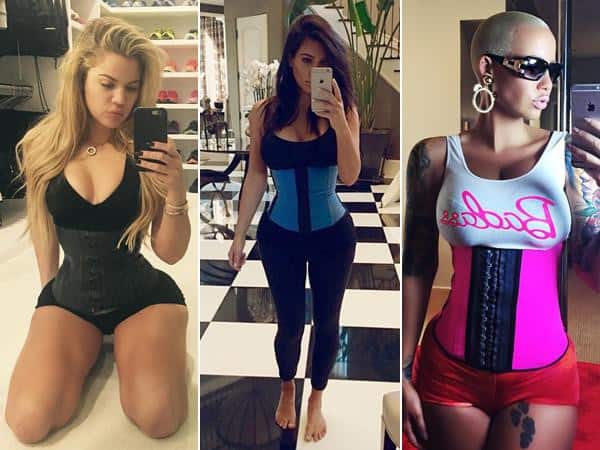 It is crucial for celebrities to look flawless in front of the screen or when they come in public. Therefore, they try hard to achieve perfect looks and this thing has affected the whole of their lifestyle. The perfectly shaped body is the first requirement to look beautiful; therefore, celebrities put some extra efforts on maintaining their shapes. In the efforts of maintaining shape, they have started waist training, and it gained extreme popularity among all celebrities. Here we will discuss few celebrities famous for waist training and how did they start this trend.
1. The Kardashians Enigma
Many people wonder about the extraordinary yet hour-glass like Kardashians' body figure. There must be many different tricks and tips that had been followed to achieve it, but it can be said that Kardashians are responsible for bringing the 16th-century waist training trend back. The most famous among Kardashians, Kim has started this training in the post-partum period, and trend got fame when she posted her pic while wearing a waist training corset along with the hashtag of #hourglass. Then, she posted another picture three months later about its significant results while dressed in a small-sized corset.
After Kim, her younger sister Khloe was also seen wearing this corset in social media. Already, everyone was wondering about their Jasmin (Princess of Aladin) like body figure, and seeing their posts with corset gave waist training extreme popularity. Therefore, Kardashians are considered as a pioneer of bringing this corset trend back.
.
2. Sexy Jessica Alba
After Kardashians, Jessica Alba was another celebrity who started following this trend during its early period. She just like Kim has adopted this trend after the birth of her baby. Jessica Alba waist training trend had appeared on limelight when she mentioned it in Net-A-Porter magazine. The celebrity revealed how she continued using double corset day and night for almost three months after the birth of the first baby and nearly two months after the birth of the second one. However, she also mentioned about the level of difficulty she faced while waist training and admits that waist training is not for everyone. Besides using these corsets crazily, she also maintained her diet and continued exercise routine to get her body shape back.
3. The Lady Rapper Nicki Minaj
Another big fan of waist training corset is the famous female rapper, Nicki Minaj. Besides being famous for her singing skills, she is also mainly adored because of her perfectly shaped body figure. The secret behind her hour-glass figure was disclosed after she posted about waist training corset on social media site in 2015. She posted the picture on Instagram while wearing a blue corset with the caption revealing that she warms up by wearing this corset every day. The lady rapper also mentioned that she wear this regularly to stay in shape. Her corset wearing picture was so mesmerizing along with winged eyeliner and pale pink colored lipstick that this waist training trend got a great hit among the young girls.
4. The Model Amber Rose
One more model to follow waist training trend is Amber Rose, who start wearing these corsets quite late but she started following it anyhow. The supermodel started this trend by posting her picture on Instagram with waist training corset. She captioned about inches she has lost through waist trainer and said that two more inches are required to drop. Though Amber Rose and Kardashians are considered rivals in Hollywood industry, still Amber started following the trend set by Kardashians because of its extreme popularity.
5. The Fitness Model Sarah Stage
A different celebrity who followed this waist training corset trend is Sarah Stage. She is famous for the extra lean and abs of her body. The supermodel left everyone astonished and mesmerized by posting her picture with a perfect body shape and abs just six weeks after her baby was born.
6. The Actress Nicole "Snooki" Polizzi
This petite star started waist training for her wedding just after she gave birth to her baby daughter. As you can see, the result is impressive!
7. The Talented Singer Ciara
Ciara is known for her beautiful voice and physique, and we weren't surprised that this sexy-looking singer joined the Waist training group after giving birth to her son – Future Zahir.
8.The Stunning "Cinderella" Star Lily James
According to interviews, Lily James said that she would wear a waist training corset underneath her clothes in each film to create a smaller waist and silhouette. For example, the stunning blue gown in Cinderella.
Pros and Cons of Wearing Waist Training Corset
We have discussed Hollywood craze regarding waist training corsets. However, are these waist trainers practical for working women? Here, we will discuss its pros and cons.
Firstly, we will discuss the benefits that waist training corsets can give while contouring a body:
The primary and significant advantages of corsets are immediate results. Usually, girls show very impatient behavior when it comes to their body shape, and waist training corsets have great benefits in this regard. It gives immediate results in reducing inches from the waist.
Another benefit of waist training corset is their perfect fitting. Anyone having an accurate knowledge about the size chart can get the corset that can fit perfectly on their bodies.
One more benefit of using corset is they maintain and correct the body posture by forcing you to stay straight and through providing support to the back.
More benefit of wearing a waist training corset including it can be visible under your clothing so that you can put it on for any occasion.
Besides these pros, there are few cons of waist training corsets as well. Many physicians have warned ladies about the prolonged usage of these corsets. According to them, these corsets cannot be used in place of clean eating and daily workout routine. Main shortcomings include:
Usually, people do not have enough knowledge of size chart, and they order corsets not set fit on their bodies.
Few people may also develop allergies from the material used in corsets. Usually, latex is used to prepare these corsets, and it can cause allergies to few.
Another long-term hindrance of the corset is the compression of the organs and lead to acid reflux.
It can cause the problem in breathing and result in low oxygen reaching all parts of the body.
Furthermore, it also damages the metabolism and can cause skin chafing.
All of them Have Once Used These Corsets to Get the Sexy Curves:
1. Ann Chery Women's Faja Deportiva Workout Waist Cincher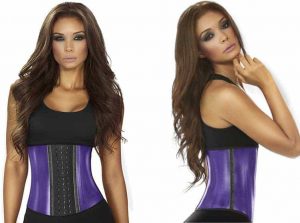 Ann Chery waist cincher is made up of imported material with the inner layer manufactured from a smooth cotton fabric, and outer layer fabricated from sturdy latex material. It further contains steel bones in both front and back side to provide some additional support, compression and leveled waistline.
Ann Chery's cincher contains three hook-and-eye closures that help in adjusting the size according to the body size. It also helps in keeping check of weight reduction easily. Wearing this cincher during workouts increases the thermal activity, and results in immediate weight reduction.
It helps in reducing weight while keeping body posture straight and providing support to the body. It is made up of robust and reliable material which contributes to continuing all type of exercises efficiently. However, many people face the problem with its sizing.
2. Ann Chery Animal Print Workout Waist Cincher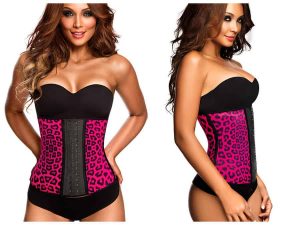 Ann Chery Animal print cincher is made up of high quality imported material. It gives further rise to provide best possible coverage. It contains bones both at the front and back side along with two hooks and eye closure to help in adjusting cincher appropriately. Its inner layer is manufactured from a soft cotton material, and an outer layer is made up of sturdy latex material that provides excellent support to maintain posture straight.
After wearing this cincher at the midsection of the body, the steel bones compresses body and train it to stay in this position. Its material increases thermal activity and contributes to reducing weight quickly while doing workouts.
The clincher is made up of excellent material along with a beautiful animal print that even enhances the looks. However, people usually have problems regarding its size and fittings.
3. Ann Chery 2021 Women's 3 Hook Waist Cincher Belt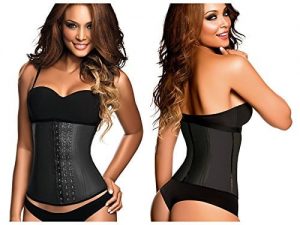 The primary benefit of Ann Chery 2021 cincher belt is that it does not suffocate you like other cinchers. It possesses cotton lining inside that helps a person to stay fresh and to prevent irritations from latex material. It gives three levels of hook-and-eye closure to adjust fittings properly.
It gives astonishing results of reducing inches from waist and belly after the usage of few days. Besides reducing weight and maintaining body posture, it is also comfortable and soothing to use.
It is a beautiful and durable waist training cincher that helps users to go smoothly with it. However, like other cinchers, it also has some size problems. People find it hard to put it on, and few even give up.
4. Hourglass Fashion Corset Weight Loss Cincher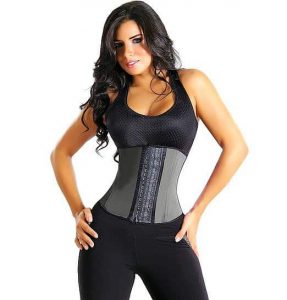 Hourglass fashion corset contains nine bones made up of steel along with premium cotton lining that provides an hourglass-like figure with soothing effects.
The hourglass corset helps to lose inches and to maintain a straight posture with the help of its durable latex material and nine steel wired bones. It neither loses its shape nor allows you to lose your straight posture.
It provides excellent posture along with slim waist. The only shortcoming is that its steel bones might get broken easily.
Best Waist Trainer Corset For Women
It is made up of two layers. Inner layer made up of cotton material and an outer layer made up of sturdy latex material to provide long life to the corset.
It helps to destroy stubborn belly fat within no time through its latex material. The material thermally activates the body during exercise and burns some extra fat.
It helps in reducing weight while providing comfort, but its shady deal is its material and size that sometimes don't adjust to the user's waist, and corset gets torn.
Other Celebrities beyond your Imagination also Waist Train
Hollywood stars have taken the trend of Waist training corset too far. Besides the celebrities who are famous majorly because of their hourglass figure, there are few more that are a big fan of waist training corsets. These names include Kourtney, and Kylie Kardashian, Blac Chyna, Kerry Katona, Lindsay Lohan, Kim Zolciak & daughter Brielle, Farrah Abraham, and many others who are getting inspired by this magical gadget and trying to get an hourglass-like figure.