The primary cause of unshaped body is your negligence towards the body form and showing a lack of commitment towards the health. To achieve the result, you need to be more committed, faithful and loyal. You need to eat a sensible diet, take proper supplementary exercises and carry out some essential waist training exercises. The purpose of waist training is to work on your hips and ribcage to make them look smart. Waist training is done by working on the front abdominal areas and oblique. It tones up these muscles and makes your tummy flatter and waist more attractive. Furthermore, it provides girls with more desirable and curvy body shape.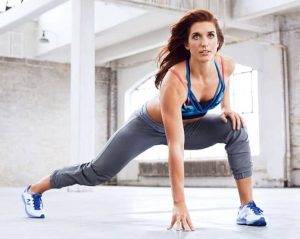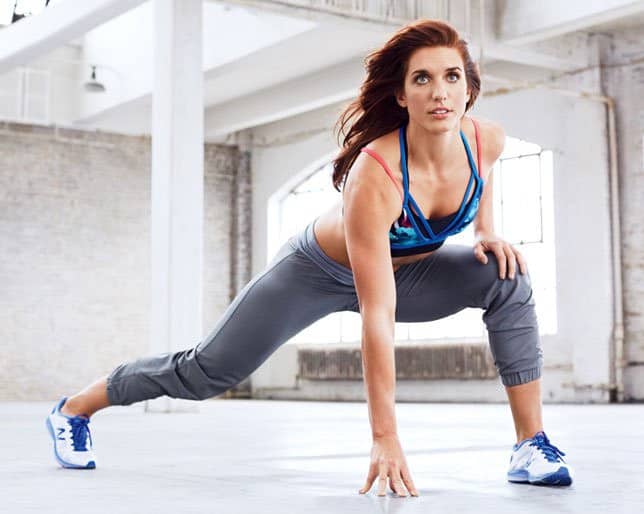 Activities play an imperative role. By doing exercises, you are lowering your body fats and burning calories without any pain and hurdle. When a person exercises, its body temperature increases and this increased temperature becomes the cause to sweat more which ultimately reduces the excess body fats.
There are many ways like postpartum girdles, post pregnancy girdles belly wraps, exercises band, and other exercises equipment that make your body ideal by mitigating the fat up to certain inches. It tightens your abdominal area to a particular extent. The following top exercises will make you have the more proper figure and curvy shape within the weeks or months.
Top Ten Exercises for Women
1. Dumbbell Pushup Row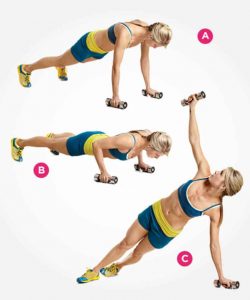 Dumbbell push up row strengthens your arms, your back and provides firmness to your chest. Moreover, this activity provides more stability and perfect shape.
To perform this exercise, you need to hold a pair of dumbbells in the hands. By keeping dumbbells in your hand, set a pushup position.
Start moving towards the floor, take a pause and one pushup completes. After this come back to your initial position.
Your legs should be spread equal to your shoulder width to have best pushup position. You must try to drive your elbows to maximum height.
2. Dumbbell Squat to Curl to Press
The exercise starts with keeping the weights or dumbbells in your hands by keeping yourself standing up without any bent in your back and shoulder muscles.
Drop the weight into a squat motion and bring the squat curl back to your shoulders.
Let your palms to touch your head and back dumbbell to your waist. This is how one repetition completes.
This exercise is amazingly benefited for the beginners. It is easy to perform and proved to be best for abs workout and toned body shape.
3. Cross behind Lungs
To begin with this exercise, you need to start with the feet hip distance apart.
The second step is shifting your all body weight to your right leg. Moreover, make a cross of your left foot to the right leg by maintaining the position of your hips forward. You need to bend your knees and lower yourself towards your lungs area.
Try to keep your back straight and chest moving upward. Now all your weight is bearing your front leg.
Furthermore, try to repeat the exercise to have maximum advantage. It also becomes the cause of your weight loss and ideal for your lower abs workout.
4. Resistance Band Bent over Row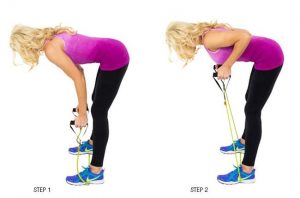 To have more healthy, firm and toned body shape, you need to perform this exercise regularly. The purpose of this exercise is not merely to lower the fats on your waist. The primary aim of this exercise is flexion of the hips.
The exercise is quite difficult for the beginners to start as it has a tough position to start up. We all know practice makes a man perfect. So being committed, you can overcome the hurdle and can have the grip to this position.
Have the hands in the position of the upright row, pivot your upper body forward and maintain a 45 angle of your hips. Let your arms to drop down. Your elbows enfolded near to your body. Stretch the band towards toward the waist. Take a pause when you reach back to the top. Lower the arms back once again and repeat the process for half an hour at least to have a maximum result.
5. Dumbbell Squat Thrust
Have a pair of dumbbells in both of your hands. Standing position must be shoulder apart. Squat downward by pulling your knees towards your toe and Keep your back straight.
Try getting back to standing position pushing through the heels and extend your arms at full.
Repeat the process for 30 to 40 times for effective result.
The exercise will make you more stable and reduces the excess fat around your hips and abdominal area.
6. Overhead Split Squat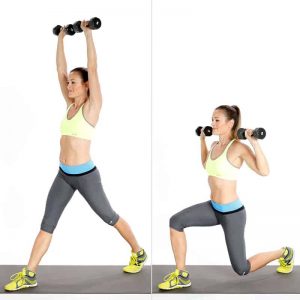 The exercise is ideal for strengthening your leg and right thigh. It is crucial for your legs, hips and trunk strength and moreover, provides the overhead positioning stamina.
Set an overhead position with your hands having strong grip in the barbells in your hands. Try keeping your shin straight and bend towards the lung. Balancing your weight in the exercise is critical as you are moving downward with weights. The balance must be distributed in such a way that it is equally distributed on your front and back feet.
Bend yourself towards your trunk unless your knees touch the floor.
Maintain the same balance and try to stand up again. Balance yourself and do not let any foot to move inward or outward.
Try performing some reps in your one leg and then to the other leg. It has proved to be best for abs workout.
7. Planking Fog Tucks
Set a pushup position and keep your body fully straight from your ankles to your shoulders.
Bring your left foot to move forward. It must be beside your right hand and foot upward by taking your legs straight.
The exercise is great for lower and front abs.
8. Crossover Step ups
Raise your foot and place all your weight on the raised foot and place the other leg on a bench or a box.
Try raising it by keeping all your weight balanced.
Now lower your off leg to the same position and repeat the process.
The exercise is ideal for the people who wants to attain their ideal body by lowering their lower legs weight.
9. Wall Slide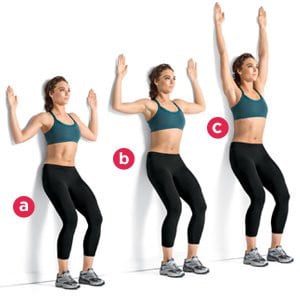 Set a position against your tailbone.
All your shoulders back should be firmly strict to the wall.
Hold your hands and shoulder and bend the knees at an angle of 45 for the best result.
Extend your arms towards the wall and let your hands move up.
Try not moving your tailbone keep it fixed to the wall for a while.
Return to the same standing position again after 10 seconds and repeat the process.
The wall side exercise has shown some outstanding results to reduce your belly fat and making the abs.
10. Barbell Hip Raises
You can start by sitting on the floor and press your back against a bench. Place a barbell on your waistline.
Start leaning back against the bench in such a way that your shoulders become parallel to the top of the bench.
Begin the motion by driving your feet and extend the hips in a vertical position through the bar.
Try to extend as far as you can and then slowly reverse the movement.
Repeat the exercise many times to have a maximum result.
In our modern era, it is an awful nightmare for women to have a fat tummy. Every woman wishes to have toned body with the sexy waist. Women do not go out from months to years and cut all their social circles because of not having their ideal body. However, now everything is possible you can have the desired body shape with the exercise. Proper diet and trainers are mandatory as without them it will not be fruitful. Furthermore, you can follow these healthy diet suggestions to extract high results from waist training exercises.
1. Healthy Diet Suggestions
If you have decided to lose your weight, then you must consider the proper diet plan. 1200 calories per day are enough? You should never try to exceed from these calories if you are committed and try not eating fats and other diets. Try burning maximum calories with exercise if you have exceeded from the targeted intake of calories. You can eliminate all excess fats by doing exercise and gain your ideal body back. Try having fewer fats and more water with a proper workout plan.
[Read more about Healthy Diet]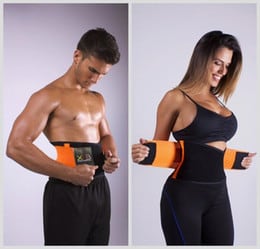 Waist trainers are effective these days, especially if you are looking to lose weight in quick time. However, you cannot achieve the desired results unless you have chosen the waist trainer correctly. There are many waist trainers available in the market. Some are being appreciated by the woman while some are highly criticized for their result. Choosing the best waist trainer is difficult, so before choosing waist trainer workout, you should consider the following factors.
Effectiveness
Stability
Comfort level
Invisibility
3. Camellias Women Waist Trainer Belt
This belt sales like hot cupcakes. It has covered a huge market. The belt is specially designed for the women who have given the birth to their child via C-section. Women who have delivered their child through normal delivery can also use this belt. Users of this belt have given it a high rating. The product provides support to your back and reduces the fat. You can have the pre-birth body or desired body shape back within 4 to 6 weeks by using camellias women trainer waist trainer belt.
4. Perfotek Waist Trimmer Belt
The name indicates that belt is for the women who just wants to trim their belly fats after their childbirth or they have genetically fat body structure. This belt tightens your tummy and lets the fats reduce to certain inches and make your waist ideal and sexy. You will see astounding results within 6 to 8 weeks.
However, prolonged use may start imparting negative impact on your health. As a result, you may lose the immunity and can have weak muscles.
[Read more about Waist Trimmer Belt]
5. Wonders Women Waist Trainer Belt
The belt exclusively trains your waist in such a way that it brings your waist more attractive and sexier even after 4 to 5 weeks of the usage. The belt is also highly appreciated by working women because it provides the flexibility and comfort of wear during the daily work routine. This product offers a strong back support and stability to your waist. You can make people wonder through the use of Women Waist Trainer Belt.