Postpartum Girdle or post pregnancy girdle is a close-fitting costume which is worn by women in all over the torso following the delivery of the child. Postpartum Girdle helps to attain your pre-pregnancy figure back.
Postpartum belly wraps also have the same functionality. It reduces the tummy fat, and one can have its dream figure back even after the pregnancy. To have maximum result from a postpartum girdle or postpartum belly wraps they should be held tight around the midsection as this tight compression allow you to have your desired body shape. Moreover, it also helps women to lower the swelling and maintain their figure after the birth of their child.
Why Are You Supposed to Wear Postpartum Girdle?
1. Body Shape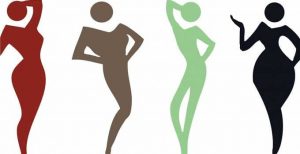 In today's era, women are more conscious about their body shape. If having tummy fat, the swelled body is one of the most terrible nightmares for a woman. Our society imparts this pressure. It even makes them stay at home for months and keep them off from all social circle including the close family and friends. They often get panic and fearful while watching themselves in the mirror, which is the reason women start having pressure even during their pregnancy and start searching for the ways to have their pre-pregnancy figure back.
The Postpartum Girdle is one of those frustrated women. They start using it immediately after their childbirth, or they have surgery or sometimes both to get their proper figuration back as early as possible. People even speculate about the new mummy, and she does not come out from her home until she gets her glamorous body back on the track. Women without C-section prefer typical girdle pull up which has no any closure it just possesses a flap in the groin area, and it is considered ideal for the women who have gone through vaginal childbirth.
2. Doctors Weigh in
When a new baby is born the uterus gets empty, and it takes six weeks for organs to get back to their pre-shape. The Pectoral Girdle just speed up the same process by reducing swelling and eliminating body fat and taking organs back to their originality.
Every childbirth is different so is the body shape of different women. Some women may have natural labor while some may have C-section, and would have stitches in their grain. Some woman has very elastic skin the other may have sensitive skin and have scars on their belly so before using a Pectoral Girdle it is necessary to examine yourself by a Doctor. Some doctors encourage wearing Pectoral girdle give the right time of wearing the type of pectoral girdle Moreover as it is the only medicated choice left after giving birth to a child and getting your body to its position. But there are also a few doctors who even discourage this action.
3. You Can Get a Lot of Benefits
Help the diastasis recti recovery
Tummy support
Back support
Keep your spine straight
Relieve lower back pain
Provide support to reduce back and leg pressure while you are breastfeeding.
Provide convenience for micturition
Stop your adipocyte enlargement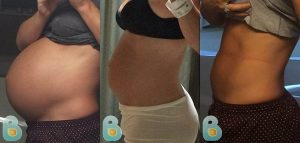 The time to put on a postpartum girdle is the personal choice and depends upon the health of the mom.
Put on the girdle once your baby is born, and pregnancy hormone relaxin remains in the blood so that you can stop it before the body gets worse than right now.
Some mom starts using these Pectoral Girdles by the day after their delivery. These are a most active woman and can't wait enough to get their body back to their originality.
Some prefer to rest and take it after some days or week even. These moms prefer their health and baby's health over their proper body shape.
The best consultation can have by your doctor who can guide you by examining your health condition and would recommend the most suitable type of this pectoral girdle according to your body structure and procedure you had undergone while giving birth to the child.
How Long You Can Wear the Girdle After Having a Baby
Your body shapes changes because your uterus is empty. It makes you look more swelled and fat.
Each woman would have a different and specific period of wearing these girdles according to its body structure and skin flexibility.
Some conceive change very quickly and gain back their pre-pregnancy. Some women never have firmness and stiffness of their skin back.
You need to wear a postpartum belt for at least 8 – 10 weeks before the pregnancy hormone relaxin can ultimately get out of your body, but a woman should not wear this for a period longer than 4 to 6 weeks.
What Is the Difference Between Normal Delivery and C-Section When Wearing the Girdle?
Wearing pectoral girdle for women undergone through C-section will be different from those women who have given the birth to their child by vaginal delivery. It also depends upon their comfort level some prefer pull-up style; the other may choose nylon or cotton fabrics.
The number of women using pectoral girdles has been increased. It has become a trend for women who want to recover themselves after C-section will be using a different type of girdles.
Some of the girdles include Bellefit postpartum girdle. This girdle is specially designed for the women that have delivered a baby through C-section. Doctors highly recommend this girdle. It stresses the abdominal area and provides ultimate relief. Gabriella abdominal elastic Binder. Doctors recommend this girdle because it is beneficial for abdominal and lower back pain reduction. The Squeem C-section belly binder is another type of girdle which is more suitable for women who want to relieve themselves after C-section its best for those who have back pain issue and want to get rid of it.
Pull up girdles having no closet are more suitable for women who have delivered their baby by the vagina. You can increase the result when you use it after the day of your baby has delivered.
Pros and Cones of Pectoral Girdle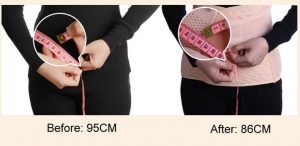 Pros
The ultimate advantage of any Postpartum Girdle is it gives your pre-pregnancy figure back without any pain.
You gain back your confidence and self –esteem by reducing your tummy back to its exact position. You can wear your old clothes again and look as young as you were before.
One of the other benefits is that it is best for those moms who suffer extreme back and pelvic floor muscle pain. It has proven to be best for the reduction of pain.
Your belly muscle will regain their initial strength and firmness without any pain. It neither makes you skinnier nor weaker. It just brings back the pre-body shape back to its originality. Moreover, this is the most significant advantage one can have from pectoral girdles.
Cons
When you tighten your belly, it becomes uncomfortable for your pelvis and causes irregular breathing even pelvic organ prolapse, and causes a negative impact on your health.
It is likely to cause indigestion, and even increase the risk of constipation.
Prolonged compression and obstruction also carry a risk of blood clots.
A girdle will compress your internal organs, intestines, and affect the operation of your body system.
If you wear these pectoral girdles for a long time; they instead re-shaping your body make your core muscles very weak.
Like other waist trainers, the girdle also causes acid reflux problems.
When you wear a corset for more than six to eight weeks: it starts damaging your skeletal structure. Moreover, it does not allow you to get active quicker.
Types of Postpartum Girdle
1. Zipper Style Girdle
Zipper style girdles are a special having girdles having zips in either your closing legs. They also have a zippered closing on your abdominal area or your back. These are invisible girdles. These girdles can be worn beneath your clothes. These zipper style girdles provide more comfort and are comfortable to wear. These pectoral girdles can be prepared with 2 to 6 waistband. It has also become a trend for people to customize their pectoral girdle according to their need. It provides back pain relief, and doctors recommend it for its design.
2. Corset Style Girdle
These are belt provide slimness to waist with comfortable usually front open design having one or more corsets. It is ideal for all women who want to get their pre-body back.
3. Wrap Style Girdle
Wrap style girdle, belly wraps or postpartum girdles all these have the same functionality. They wrap your tummy in such a way that it has reduced fat and reshapes your body at its best level. When you want to choose best wrap style girdle, these factors must be considered.
4. Girdle Pulls up
These girdles have a unique design. These girdles are without any closet and zipper usually has three layers. You to pull them up to get yourself fit into them. These particular girdles are ideal for those women who want to recover their bodies after vaginal childbirth its primary function is to improve the posture and provide ultimate relief from the pose.
The Postpartum Girdle Buying Checklist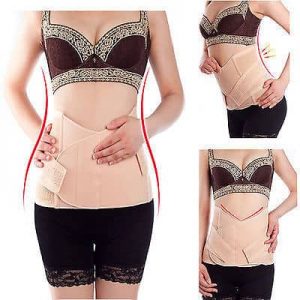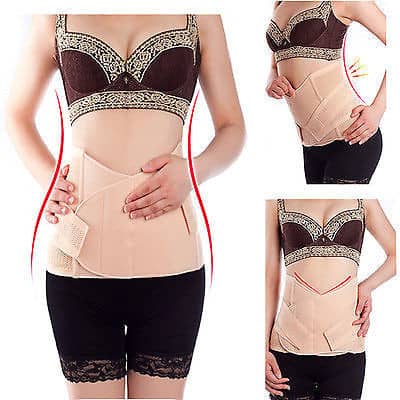 How to get the perfect girdle is one of the most challenging questions women encounter after their baby's delivery. To have maximum benefit from the postpartum girdle one should aware of their body structure and postpartum girdle's best type.
While choosing postpartum girdle, it must have following characteristics:
1. Comfortable
A postpartum girdle may cause minor discomfort, but there should be no pain. An uncomfortable one will also prevent you from wearing it day-to-day and affecting the efficiency. The best postpartum girdle is one which makes a woman comfortable in its fitting, with the right size, the appropriate support, and no sliding or scrolling. It lowers the fat and also provides the ultimate relief.
2. Easy to Wear
The postpartum girdle should comfortably fit your body. Choose one that allows crotch visit to facilitate access to the toilet, and its pad should regularly be replaced as it is also necessary to ensure cleanliness and hygiene. Besides, it should never be that tight to impart any adverse impacts on your health.
3. Effectiveness
Effectiveness regarding postpartum girdle can be defined which gives a maximum result at the lowest period. Therefore, you should choose a girdle that gives you enough support and corrects your posture without the feeling that wound will burst open.
4. Durability
Since the girdle needs long time wearing for effectiveness, its quality should be guaranteed. Also, a high-quality one is even more secure for your health.
5. Invisibility
Invisibility is also a factor one should consider while choosing a postpartum girdle. In this case, it can help bring you a natural look.