It is the fact that ladies avoid color-blocking for good old-fashioned monochrome. You should be surprised to know that dark side-panel ensembles give you a slim look. You can wear an attire under corset to look more slim and smart. We have seen many celebrities following this trend as it gives an exquisite look. High waist knickers have also become very popular. They are not only for hips, but the built-in shapewear makes your tummy smooth. These costumes come in different lace proportions and embellishments. They also come in various patterns and prints. You can match them with your attire color.
Is It Possible to Wear a Corset Underneath Your Clothing?
Waist training is considered as trendy and fashionable. Steel-boned corsets are gaining popularity as a fashion icon, costuming, wedding back supports, or having an hourglass figure. However, for some women the worrying question is, is it possible to wear a corset underneath your clothing?
We have seen ladies hiding their corsets underneath their everyday attire because they do not want to make it visible. Unfortunately, none of the corsets look like skin or make you feel like flesh. But the good news here is that you can use some of the features of the corset to make it as invisible as possible under your clothes. For example, you can comfortably wear Latex cinchers with hook-and-eye closures as they are not visible, but we cannot say the same for lace-up corsets which are bulkier.
Now ladies do not have to worry about it, as with stealth corseting no one can guess if you are wearing a corset. You should know what types of outfit to wear to keep it secret.
What Makes a Perfect Stealth Corset?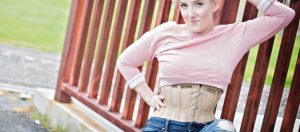 1. Hook-and-Eye Closures
Latex cinchers with hook-and-eye closures are the one ladies can comfortably wear under the dress as it will not be visible to others. This non-lacing design also allows you to put on a corset quickly and easily. Also, if you want a closure that fits well and is of good quality, it is recommended to customize it.
2. Flattering Waistlines
Corsets have been in use since the 16th century, and women never faced any issue in hiding them. It is true even for dresses like gowns, pants, and jeans even. However, it is worrying when ladies started wearing lower jeans. You will be having a weird and bulky look around lower belly if you are wearing a corset with hip hugger jeans.
Thus it is imperative to wear an outfit that comes with natural waistline when you are waist training with a corset. Nowadays high waist styles are in fashion, so you choose corset stealth with more top waist jeans, pants and skirts. When you are waiting for training, you want to make an impression on others, and many dresses and styles can help by highlighting your waist.
[Read more about Waist Training Corset]
3. Internal Boning Channel Is Your Best Assistant
The corset channels are generally divided into three types, including internal, sandwiched, and external, in which the internal boning channel can achieve the smoothest surface and most comfortable touch. The flat surface can also be better hidden.
For the other two, the sandwiched one is a comfortable, smooth and stylish composite and the external one doesn't bother you with boning channels pressing on your skin.
4. The Simple Top and Bottom Edges Are Important
Too much design is bound to expose your corset, so you are likely to see the top and bottom sides of your corset are cut directly without any accessories. In this case, you can avoid any unnecessary things out from beneath the clothes.
5. It Is All About the Fabric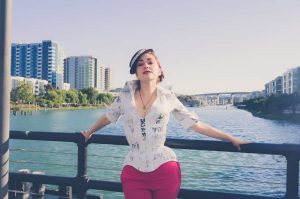 Fabric matters a lot as if it is very thin; you cannot hide what you are wearing underneath. If you cannot bottle up your bra or pant line means your corset is also visible. You can wear seamless shapewear if you are wearing very thin dresses instead of corsets. Many dresses have embellishments, frills, and ruffles and it can highlight your shape while distracting whatever you are wearing underneath. Even if you are wearing jeans with T-shirt, you can work well. You can wear a t-shirt with dark colors and patterns and jeans with high waist. You just need to do trial and error with your closet.
While selecting you cannot rely only on brand names there are many other things to focus as well. For example, fabric choice differs person to person, corset with laces and embellishments can be worn underneath, but we have seen people wearing as outerwear. Moreover, buy a corset with steel boning as it is essential for "cinching" of the waist. The plastic boning is just for looks and fashion and can burst if you wear it very tightly. Therefore, you have to keep all these things in mind before purchasing.
6. Correct Color Matching
Skin and nude colors work well with clothes of all colors. Of course, choosing the corset that is closest to your natural skin tone is the best bet, whether it 's beige, brown, tan, caramel or ivory.
7. Belts Are Your Best Friend
Belts are your best friend if you have a corseted waist. It looks very smart with a beautiful corset. You can wear your corset in beautiful dresses and belts. You can wear a belt if you are wearing a long shirt with leggings. It will make your slim waist visible, and you will look taller.
8. Does the Type of Corset Matter?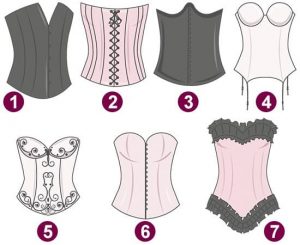 The type of corset matters a lot especially when you are worried about their visibility as some are more visible than others. The choice depends on color and texture of corset. If you are wearing some light color dress make sure your corset should not be colorful, it should match your skin color either nude or black corset. Moreover, light corsets are not visible as compared to thicker corsets.
There are not much side effects of wearing a corset, but one is corset bumps. It usually occurs in the form of itching or rash. One can avoid this by taking care of hygiene, dressed in a corset liner or putting powder on the skin. According to corset manufacturers, there are seasonal corsets, and it is up to us to wear as per the season living in to avoid itching and other things. Also, you have to make sure it is your perfect size else benefits would be less.
When It Does Not Work
There are different corset styles for which you have to find an alternative if you do not want to make it visible. One such example is a lace-up corset, as it 's hard to conceal it with fitting. However, this problem can be solved by wearing a latex cincher instead of any corset. There are many options other than slimline corsets to look slim and smart. You can wear no closure cincher when you do not want to stop waist training. Therefore different outfits help you cleverly concealing it. Many costumes can help you to make use of log line corset without worrying about visibility by minimizing unwanted corset sightings.
There are also different types of corsets such as underbust corset is all about the waist. You can wear it with any top or dress under, or you can wear it above. The under-bust corset is not very hot, and one can quickly wear it as compared to an overbust corset. Totally waisted taffeta is most famous among black underbust because of its light weight, comfort, and glossy embellishments. On the other hand, over-bust corsets are for the upper portion only from bust too low hips. The overbust corset is the real corset you have to wear if your breasts are big as it can provide support and structure. Moreover if choosing off the rack cinchers, make sure you can sit comfortably and it does not go into your thighs.
Therapeutic corset contains the smooth lines of tourmaline and other minerals that give some benefits such as reducing weight and water retention, improves bowel problem, UTI infections are improved, relieves stress, back pain, and many others. Other than corset suspender belt also gives you smoother line under your dressing. It should be placed on your waist, not on hips.
Suggestion 1: Casual Black Dress with Belt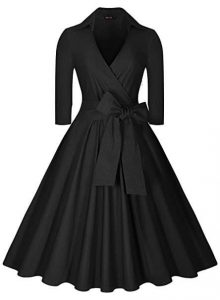 As belts are your best friends, when you wear them with black dress and corset underneath you look stunning. It further makes you look slim by making your tiny waist visible.
Suggestion 2: Long Tops with Leggings (Belt optional)
Long tops with leggings are the favorite outfit of many ladies. It is stylish yet comfortable to wear on any occasion. You can wear with a belt to look more in shape, or you can avoid belt to look more graceful.
Suggestion 3: Butt-lifting Jeans plus T-shirt
Butt lifting jeans have higher waist cut, and by wearing with corset, it can comfortably fit around high upper back. You can wear any cute top with it such as printed shirt for a casual look or printed tee for sexy look.
Suggestion 4: Frilly Summer Dress
The summer clothes are usually gaunt and have ruffles and other embellishments; they look prettier with your perfect corset. You can choose different patterns and prints and see what is best for you.
Suggestion 5: Fitted Pantsuit or Skirt Suit
You can look brilliant and professional at the same time by wearing a fitted pantsuit with any corset line. You can be more sexy and confident at the same time if you can if you have concealed the corset with a blouse full of ruching and ruffles.
Suggestion 6: Corset on Top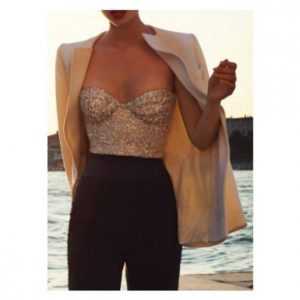 We know that throughout the article we are discussing how to hide the corset, but it is also the fact that some corsets are so smart that you can wear them above your favorite top such as button-down shirt so your beautiful corset can become outerwear.
Conclusion
We have discussed a lot of options for the dresses that can stealth corset and makes you more confident. As the modern corsets give you slimming look by making your hips and breast visible, it is equally important to choose right corset. The real corset hugs the body more tightly. Moreover when selecting a corset fabric decision is very crucial. With all the natural fiber present in the corset, sturdier materials should be there. If you are in search of a right corset, the major fashion brands have them on their website. Now you can choose the right waist trainer sitting on your couch as per your preference. In conclusion, we will say its personal choice to do waist training with a corset, but you have to analyze which fabrics, cuts and accessories work best with their style and personality.