The word 'corset' originates from French word cors. Steel boned corsets are made up of both high-quality steel and strong quality fabrics. Typically, they are reinforced with steel boning to make the corset tighten at the waist and accentuating the curves of your hips and chest. The corset is made to fit your abdomen, which can be an "overbust" or an "underbust," whether you choose to wear over your clothes or under your clothes, it all depends on your daily styles. Usually, they are designed according to the shape of the body and used to reduce or shrink the natural waist size to a considerable extent. A well-made steel boned corset provides highly support to your back and waist without sacrificing comfort. Most wearers can experience a four to five-inch waistline reduction.
A high-quality steel boned corset will keep its shape even if you wear it all night. However, you may know about seasoning or break in the corset. It means we should wear the corset properly. You should lace the corset loosely at first and don't try to tighten it up until your body gets used to it.
Types of Corsets
Underbust or Overbust?
Underbust corsets can easily be worn underneath clothes. And the overbust corsets can be worn under clothes to replaced a bra, and can also be worn as tops. Here are some of their advantages and disadvantages so you can choose one that fits you best.
1. Overbust Corsets
OVERBUST corsets start over the breasts and extend down to the hips. These are used both as an undergarment and a fashion statement. An ideal corset should cover and lift the bust properly rather than flattening it. A suitable overbust corset is beneficial for large busts. It keeps them in shape and provides them a noticeable uplift. Steel boned corsets are the best corsets, and among these, Overbust Steel Boned Corsets are the excellent corsets.
Top advantages: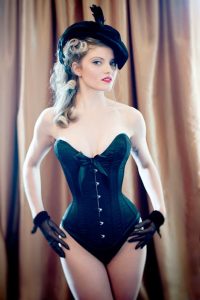 If you have a small breast, this corset is useful for uplifting it.
It prevents the incidence of rounded shoulders when the corset comes higher, at least partially higher than thoracic vertebrae. So, it helps to maintain proper posture.
It relieves pain. Moreover, along with some exercises, it helps to prevent spine curvature. Thus helps in avoiding scoliosis. If you have anatomical asymmetry, check with your doctor before wearing a corset.
If you have some curvature in your upper spine, an overbust corset must support your back better.
Women with large breasts may suffer from scoliosis. so those women who do not want to go under the knife or can't afford surgery can use an overbust corset as an alternative. It supports breasts from downwards.
The group of nerves that run in clavicle region control all the neck and shoulder movements. This brachial plexus is the part of thoracic outlet where both nerves and muscles lie. It gets affected due to heavy breasts, neck or shoulder injury; this leads to nerve compression, tingling and numbness, and pain in hands. You can cure it by using overbust corsets that prevent building up of pressure over the shoulder area. So those conventional bras with shoulder straps are out. However, still, if you want the best corset, first consult your doctor before buying it.
Deficiencies:
Overbust corsets are higher than underbust corsets. They cover the chest area as well. So, they reduce your mobility.
The corsets are always relatively fixed, unlike bras. Bras have some elasticity that makes them contract and expands whenever we breathe. Overbust corsets cause a problem during deep breathing.
Some users find difficulty in exhalation and inhalation.
Overbust corsets shape our breasts in a particular way that one might give an impression of someone that she is wearing something odd underneath. So, if you are a self-conscious person, then you should avoid wearing them.
Overbust corsets are hard to fit.
Overbust corset sizes are less available than underbust corsets. Plus they usually don't fit extra large breasts.
Overbust corsets are less affordable as they are quite expensive.
2. Underbust Corsets
Underbust corsets are in fashion trend now. An underbust corset does not cover the breast area. It starts beneath the breasts and extends down towards the hips. It is available in many shapes and sizes to accommodate the varying needs of the users. Long line corsets are perfect to cover the iliac crest or hip bone. Underbust corsets are made of many materials, but steel bond lace cinchers are the best. You have to wear a bra with an underbust corset because it only supports the belly area. Men also wear these types of corsets because it supports their waist. In 1893, men's corsets were advertised for the first time.
[Read More about Men's Corsets]
Top advantages: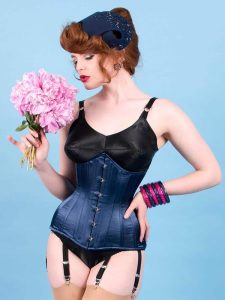 Underbust corsets reduce back pain, neurological and autoimmune disorders. It also helps to treat a migraine and headaches as well.
These corsets decrease constipation issues as they can stimulate intestinal movements. They also reduce menstrual cramps.
As it does not cover the breasts, it allows deep breathing and normal functioning of lungs.
It reduces tension from shoulder and neck area and helps to maintain proper posture. The corsets provide flexibility and support to the body.
They are more affordable than others.
Deficiencies:
An underbust corset does not support the breasts like an overbust corset and does not lift up the breasts.
It does not reduce the occurrence of Thoracic outlet syndrome as it is not compatible with the bust area.
It makes breasts appear smaller if not worn with a proper bra.
Corsets Patterns for Different Occasions
For prom or wedding – Bridal corsets:
The wedding is a most important day in every girl's life. She wants to look perfect on her special day, including the flowers, the dress, the hairstyle, the accessories, and, of course, the bride herself. The bridal corsets make a bride look elegant and beautiful and give her a flattering figure by adding something unique to the wedding dress. Women usually wear them under a bridal gown.
For Masquerade – steampunk, pin-up baby doll, Victorian and Gothic:
Steampunk corsets are based on the concept of female empowerment and adventure. The style is a blend of Victorian fashion and steam-powered machinery. Steampunk corsets give you an exquisite look. Mostly it is used to wear under masquerades costume for plays and dramas roles.
Pin up a baby doll corset with lace or satin ribbon, ruffles, and polka dots will make you look sexy and cute just like a sweet cupcake. Victorian and Gothic corsets are exclusively designed for the stage performers. Its flexible material makes it comfortable to wear and perform any act. Moreover, dancers also love to wear this corset.
For stage performance – floral corset, leather corset, rock & roll and burlesque:
The leather corsets are made of leather and will give you a sexy and powerful look. These corsets not only help in increasing your style during role-playing but at the same time raise your defense against the LARP.
Features of Steel Boned Corsets
These include flat corsets and spirally shaped corsets.
Steel bond corsets are considered as ideal for the shaping and waist cinching.
1. Boning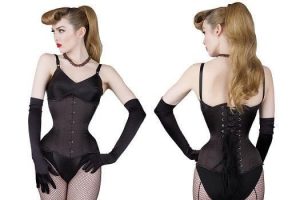 Flat steel boned corsets are robust and durable. They are made up of strong steel sheets and have sharp edges. These type of corsets will give you a strong support.
Spiral shaped boning provides a better fit as it covers hips and busts Moreover, it also provides flexibility. So, it can resist more tension. If you want a curvier figure, these type of corsets would be best for you. You can also comfortably bend wearing these corsets.
Hoop boning is ideal for skirts. They use these hoop wires for steel boned corsets.
2. Busks
These are the rigid parts of corsets. They are used for hardening and stiffening the corsets. They are meant to straighten up the corsets and for their alignment. The famous type of busks are as follows:
Standard busk is a flexible and a comfortable busk available in all sizes. It has a white enamel on it.
Black busk gives better belly control than standard busk. However, it is less flexible and wider.
Spoon busk has a shorter length. It is less flexible than others. This busk provides best tummy control. It is spoon shaped and comparatively expensive.
Fabrics Materials
Silk Brocade – It originates from an Italian word meaning twisted threads. It is a gorgeous, thick polyester mixture. They look more elegant than ordinary fabrics and can add something fancy to your outfit.
Lining Fabrics – It offers a fur type material. It forms inner layers of fabrics, and it gives neat finishing to corsets.
Cotton – If you love casual comfort then cotton is perfect for you! It is a woven type material and prevents stretching. But because of the thicker fabric, it can be a little difficult to wear a cotton corset underneath your clothes.
Leather – If you are a steampunk fan, then the leather corset will be the best choice. However, as the leather is a natural material, it will gradually stretch over time.
Satin – If you choose a satin corset, it will shape your waist and provide an enhanced hourglass figure, and due to the material and shape of this corset, it is also a perfect stealth corset.
Best Steel Boned Corsets Recommendation
1. Camellias Women 26 Boned Corset Shaper
Camellias Women 26 Boned Corset Shaper is a heavy duty corset made with steel boning. You can use it for short torso and standard torso body length. This is a multipurpose corset and can be used by anyone irrespective you are a housewife or working women. You can wear it even during your workouts. You must keep in mind that you have to choose the corset which is 3 to 4 inches less than your waistline.
2. PLAYGIRL Steel boned Waist training Shaper Corset
For flattening your stomach, you must use this corset because it improves the posture. No matter what your height and body shape is, it will be suitable for you. The only exception which is not encouraged to use is the women with short torsos. PLAYGIRL Steel boned Waist training Shaper Corset can lead to 6 to 7 inches waist reduction.
3. Charmian Women Double Heavy Steel boned Underbust Corset
The best thing about this corset is that you can wear it under an outfit. It can be a fabulous accessory. You will feel very comfortable wearing this because of its one feature that is flexible internal boning which doesn't let your outfit from slipping. Charmian Women Double Heavy Steel Boned Underbust Corset give you assisted posture correction, lumbar and back support. This product offers magical results when it is used to reduce post-pregnancy weight loss.
Tips to Clean and Care Your Steel Boned Corset
You can clean your corset with a mild detergent, but remember, never wash your corset in the washing machine! This will cause steel bones to rust and can severely damage the fabric. If you wear a corset frequently, then I suggest you dry clean it regularly.
Never dry your corset outside when you 've finished washing it because the sunlight can damage the fabric. The best way is to hang it on a hanger or chair. Besides, don't forget to dry it completely before storing.