Corsets are very popular as ladies love to wear them to look slim, strengthen posture and many other benefits. The corset is also divided into two major types, one is an overbust corset, and the other is an underbust corset. In general, for the waist training novice,  it is recommended to use the underbust one.
Overbust corsets start from hips and cover all over the bust. It helps you in shrinking your waist by giving your breast uplift. It is perfect for big figures as well. The main thing about these fantastic overbust corsets is that you can wear them as an outer garment. Thus it can be wear as a fashion garment or a lingerie item, and the go-to corset is the right choice.
What Shape Are You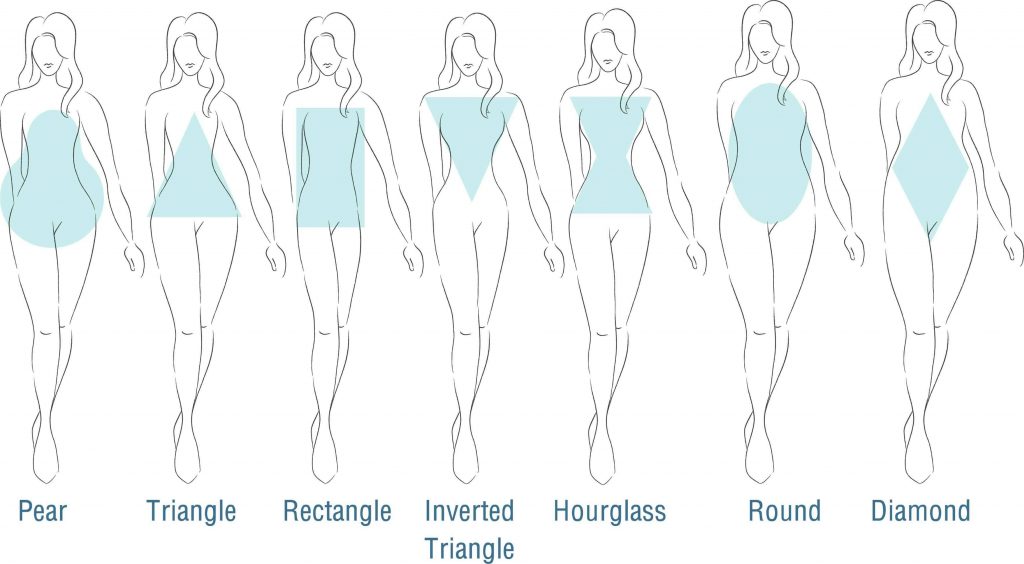 Before buying an overbust corset, you need to make sure what shape you are in and what you want to be. It can help you change your body shape by trimming waist. You can wear it to shape your figure or to make it fit. It will enhance bust even by mild reduction of the abdomen which most of the women wants. First of all, you need to understand your body shape; if you are busty, you need to wear an overbust with excessive support. Steel boned corsets are very accustomed in this regard as they are comfortable and give you support as well. Steel-Boned Overbust Corsets are considered superior to laced corset especially if you want to have a tight fitting. If you do not want to enhance your breast, then you can choose corset which emphasizes on that.
If you have small breast, you can wear an overbust with a bigger cup that can enhance your breasts. Overbust corsets are designed such a way to uplift your chest like a push-up bra which has pads to boost your look further. Thus by wearing a corset, you can enhance your curves, and if you do not have, it can create it. It gives you hourglass shape forming curves on both sides.
Corset sizing is crucial, and you have to keep in mind proper size when buying a new one. An ill-fitting overbust corset will be uncomfortable and will look odd as well. For that purpose, you need to know your exact cup size so that it fits you perfectly. If your abs are not in good shape wearing a shorter corset is not a good option as it will highlight your stomach. Instead, wear a long corset which will cover your belly fully.
When doing a measurement, you need to ask someone for the assistance as this is the best way to take an accurate measurement. Measure your breast size precisely. For the precise result of your natural waist size, measure the thinner portion of your belly.  For the waist, to underarm measurement, it is at the end of your bra to the top of your ribs. For center front length best is to measure your waistline.
When measuring, the tape should be closer to the area but make sure it is not very tight. Last but not the least is the cup size which is imperative and for its exact measurement, measure full bust.  There are many online charts available which can help you in getting right cup size for your overbust corset. The following is the chart which can help you in getting the right size.
Right size for your corset is vital to make sure that it is comfortable, suitable and serving the purpose. It does not cover all your body but provides support to create curves and look beautiful. Most people use corset for waist training and for that purpose buy a corset which is 3 to 4 inches smaller than your actual waist. The waist trainers mostly have hooks so you can adjust as per the waist later.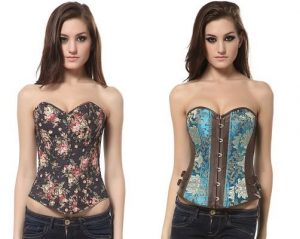 Over Bust Corset Styles – Classified by Silhouette
Conical:
The common thing about conical or ice-cream cone silhouette is that they trim you from top to down like a cone with the help of its straight-edged style. It needs to shape the lower ribs but make sure it is not causing discomfort. If your ribs are aching, it means corset is too tight.
Hourglass:
It works best for an active lifestyle by giving more space and room to your ribs by its curve and round sides. It helps in molding your ribs thus shaping the figure you want. It will give more freedom of movement, especially at hips.
Pipestem:
The unique thing about this corset is that it goes straight up to the ribs, unlike other corsets. It puts a lot of weight on internal organs by giving you pipe-like shape.
Cupped rib:
This type of corset put less pressure on the sides and front of ribs and helps in shaping waist. They are very comfortable to wear by having less compression on ribs and organs.
U-shape:
The U-shape corset will give you shape with the help of inverted parenthesis by slightly focusing on the waist. If you want slight weight reduction, then U-shape is the right choice for you.
Wasp waist:
It is considered as an extreme form of hourglass corset, and that is the reason most people avoid to use it. It has defined waist with sharp nipped. According to experts, it is more like a cupped rib.
Pros and Cons of Choosing Overbust
Like all body shapers, the overbust corset has its advantages and disadvantages, from which you can also be more clear why you should choose an underbust corset instead of the overbust one at the beginning.
Pros:
An overbust corset can provide reliable support for large or heavy breasts, which can not only reduce the trouble in daily life but also prevent the spinal cord from bending and the problems of muscles surrounding them.
The overbust corset can support almost your entire upper body, specifically to the chest in front and the shoulder blades on the back, giving you a better overall posture.
The excellent supporting ability of an overbust corset can help relieve back pain and correct the curvature of your upper chest or spine.
A suitable overbust corset can help control and manage the risk of shoulder injury or thoracic outlet syndrome.
Cons:
The price of an overbust corset may exceed your budget because it is more expensive than underbust corset by consuming more materials, time and energy.
Wearing an overbust corset without elasticity may put a drag on lung activity, making you feel breathless.
An overbust corset may limit your body 's flexibility when it wraps most of your torso.
Since the overbust corset needs to cover a large part of your body, its overall size requires a great deal of fitness. Therefore, you are likely to feel uncomfortable wearing an overbust unless you have a custom-made one.
An overbust corset cannot make you gorgeous body shape natural, because its unique shape can't hide under your shirt.
Best Over Bust Corset Recommended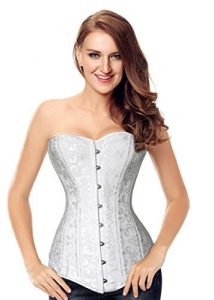 There are many types of overbust corsets available, and you can choose as per your body type and desire. Some of them you can wear as per the occasion need. You also have a choice to wear as per the season. Colorful Overbust corset gives you the immense option to wear them as per the occasion and time. Overbust Red Corset looks very romantic from wedding point of view; you can wear it with a formal skirt on any particular day such as Valentine's Day. Blue overbust corset is the right choice for the night. It is most suitable for small busts. Cotton Overbust Corset is also very comfy and durable to wear, but it is not a good choice to wear them under the dress because of its thickness. However, here are our top picks:
1. Charmian Women's Long Torso Hourglass Corset
Top advantage:
It is made of 90 % polyester and 10% spandex. Its most prominent power is its 26 steel boned made up of 2 steel bone, six flat steel boned and 20 spiral steel boned. The good thing about steel bone is its flexibility and durability. The garment has internal flexible honing which preclude the corset from moving up and down thus stays at its position.
Suitable for:
It is mostly recommended for shaping body, as waist training corsets and tight lacing. You can wear it as a costume or match it with jeans, dress or pants.
2. Imilan Women Sexy Boned Lace up Corsets and Strap Bustiers Top
Top advantage:
Its first benefit is that by flattening your waist and tummy area it gives you hourglass shape with right curves. It provides firm control thus lessening the problem areas.  The unique thing is that it does not bend or gets uncomfortable with prolonged time.
Suitable for:
A first satin ribbon and side zipper closure with laces makes it a formidable outfit for a wedding, party, club, stage party or a Christmas party. You can wear this with slim fit formal pants or even with a skirt.
3. YIANNA Women's Spiral Steel Boned Waist Training Overbust Corset
Top advantage:
Its leading edge is its 26 steel bones which are made up of 20 spiral strong and flexible steel bones and six rigid steel bones. Its back consists traditional laces. It also has 5" modesty panel which makes it further unique. It is made up of 100% cotton. If you wear it firmly, then it can help you in reducing waistline by 5 inches.
Suitable for:
It is mostly recommended for shaping body, waist training, and tight lacing.
Conclusion
The unique thing about overbust corset is that it gives you slim and trim look by flattening your stomach and tummy. The corset with unique design and fit is perfect wear for you on any occasion. We have done thorough research about overbust corset. There are many styles, colors to carry as per the time. There are few points to consider such as always buy a good quality corset because it is a long-term investment. A good quality corset worth an investment. Moreover, you should take care of overbust corset as you cannot just throw it in the closet.