Underbust corset is a type of corset that gets adjusted beneath the busts of the body. The purpose of an underbust corset is same as other corsets. They are also manufactured with the intention to reduce the waist by inches. However, they are a bit more comfortable, and more natural as compared to overbust corsets. It is easier to put an underbust corset on and also to move and sit freely while putting it on. All these qualities make underbust corset more preferable to be worn for a more extended period as compared to other corsets. You can wear these corsets both under and over the clothes. Thus, underbust corset serves the purpose of both functions along with fulfilling the fashion desire. These corsets can help to convert mind-numbing dress into a fashion symbol by wearing these over clothes along with enhancing the body figure.
What Shape Are You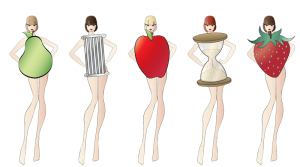 Everybody possesses different body shapes, and corsets are worn to give the body an hourglass-like figure. No matter what your body looks like, you have to be clear about precisely what body parts you want to change and highlight, like changing the hairstyle by doing hair color, changing your image by dressing in different ways, improving your face with makeup, and so on.
Few ladies might have pear-shaped bodies and few have an apple like bodies. There are a group of ladies having a flat body with a boyish shape, and there is another group with busty bodies. The form of the body plays a vital role in the selection of a type of corsets. What body shape along with the look person wants to attain is a thing that decides which corset will go entirely along with the body shape.
For example for busty ladies, who want to maintain the look can opt for an underbust corset that will squeeze waist area. For extra large size, a steel boned corset is preferable to get maximum support and easiness. For the ladies who want to have an overall slim look can go for overbust corset rather than the underbust, as overbust makes you look thinner and lean. But for females with flat body shape, an underbust corset is an excellent choice as it will help to highlight and enhance body features. Similarly for those having boyish figure can choose both overbust or underbust corset, as both will work fine on them.
[Read more about Underbust Corset]
Size Matters
The primary purpose of a corset is to cinch the body to attain the hourglass-like figure. The right-sizing is a crucial thing in this regard. If the corset does not set fit on your body, then buying corset is mere wastage of money with zero results. Therefore, before going to buy a corset, correct measurement of size is very much necessary.
How to Measure Your Size for a Right Underbust Corset
To measure the body size for buying underbust corset does not require measuring the length of full busts, as they started from the waistline. The parts that need to get measured are natural waist, underbust, and hip area. Additionally, it is recommended to measure the torso length for buying corset as long corset will make difficult for a person to move freely. You can gauge the waist by taking measurements from the thinnest part of the abdomen. Hip area is measured by taking measurements at the top point of the legs that majority of people consider their waist. The underbust area is measured from the highest point of the ribs.
It is recommended to measure the size by asking someone else for the help to get the right size. Moreover, measuring tape should not be held tightly around the skin; instead, it should get its starting point only by touching the skin. As the purpose of a corset is to enhance the shape of all body parts, therefore, just choosing a right size can help to get perfect results.
Knowing the Structure of the Underbust Corset Also Matters
It is vital to have proper knowledge about underbust corset structure as well to get a perfect corset for your body. The underbust corset gets fit under the bust around the waistline. It possesses three different parts, one that will get settled precisely around the upper tips of the ribs, second that will wrap the waist and the third part that will touch the upper part of the hip. All these different parts have a different measurement. Furthermore, the shape of starting and ending portions of underbust corset may also vary. Few contain heart like shape, pointed corners or inward corners. Therefore, keeping in mind the corset structure, you need to order the right underbust corset to get 100% results.
Popular Underbust Corset Materials
Many factors need to be taken into account when looking for the right underbody corset, such as shape, pattern, color, material, and fit. To make the body feel comfortable with an underbody corset, besides considering the above body size and structure of corset, the other thing that matters is the material of underbust corset. Corsets are usually manufactured using the materials like satin, mesh, cotton, leather, and brocade. The selection of material type depends on the purpose of wearing a corset, as all corset materials are of different characteristics and serve a different purpose.
1. Satin
Underbust corset made up of satin material is usually recommended for those who want to train their waists only. As these corsets are worn under clothes, therefore, it is best for the people just wanting to have hourglass-like figure rather than showing their corsets. The material is suitable to be worn under the clothes as it makes clothes get slipped over it easily instead sticking. Furthermore, satin is a perfect material for those having pets, as pet hairs will not get stick to the satin material.
2. Mesh
Mesh material is highly comfortable, and you can wear it worn both under and over clothes. Mesh material is breathable and makes corset perfect to use during summers and hot weathers. Furthermore, mesh material also provides a perfect outline of the body as they contain very small bulks.
3. Cotton
Underbust corset made up of cotton is breathable, comfortable and casual too. However, they are not recommended to be worn under the clothes as the texture of cotton is bit thick and it will give a weird look under the clothes. Furthermore, it might be difficult to wear these cotton corsets, but once a person is done, it will become the most comfortable and durable corset material.
4. Leather
Underbust corsets made up of leather material are exquisite and give a stylish look. However, they are not recommended to be worn under the clothes and for regular waist training purpose as leather material get stretched out over the time. Leather corsets are highly comfortable.
5. Brocade
Brocade corset material is thick, sturdy and has a polyester blend. It is worn over clothes, and it is majorly used to enhance the looks of outfits as its fabric gives classy looks to the wearer. It can be difficult to wear at the start, but once getting settled with this corset, it will be highly comfortable.
Major Styles of Underbust Corset
1. Longline Style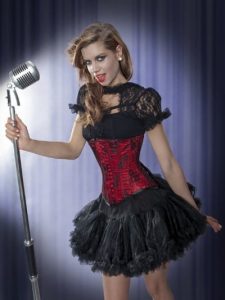 Top advantage and features
Longline style corsets are those corsets that are usually long enough to cover the hip area beside covering the waist. It provides coverage to a larger part of the body.
Longline style corsets are usually ideal for tall ladies, but especially for those having long torsos length.
Longline style underbust corset should be used by ladies with long torso length, as it will cover a major part of their bodies and would also give them a perfect shape. Furthermore, ladies with a round belly should also choose this corset, as the belly fat has to be adjusted somewhere, and longline corset can evenly divide it and gives a smooth appearance.
2. Waspie Style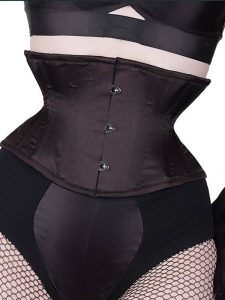 Top advantage and features
Waspie style underbust corsets are usually the smallest corsets among all other styles. They are just like a little belt that provides coverage to stomach area only. It is typically used to enhance the look and for fashion purpose mostly. They cover only a small portion and therefore, it is less contracting as compared to other corsets. Waspie style corsets can be converted into waist training corsets by merely adding steel bones.
Waspie style corsets are best for those who are new to wear corsets. However, they can also be proved as an excellent classic corset piece for experienced corset wearers wants to have easy and quick corsets.
Waspie style corsets are useful as they can be worn without any difficulty. Additionally, they don't poke or hurt at the underbust area. It can be one of the best corsets for those interested to look elegant and trendy as it is the most popular corset style.
3. With Wide Strap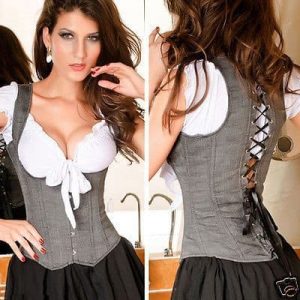 Top advantage and features
These corsets come with a wide strap that provides adequate support to the body like a cross-back style or halter. This style is available for both underbust and overbust corsets.
Underbust corsets with wide straps are useful for ladies having broad shoulders.
The corsets with wide straps are the best option for those ladies having broad shoulders. As usually, such ladies suffer more to look more feminine, that is why this corset can help them to give more smart and feminine look.
4. Bodice-style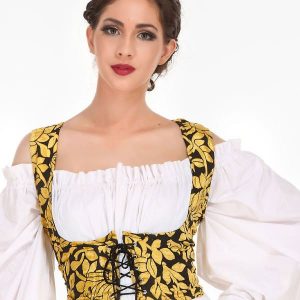 Top advantage and features
Top advantage and features
Bodice-style corsets thoroughly cover the waist area. The both starts and ends at the waist of the body. They usually possess straps, and they are an excellent source of providing support to the back and shoulders.
The bodice-style corset is ideal for all type of ladies if the size is chosen perfectly fit for them.
Bodice-style underbust corsets while providing exceptional support and coverage to waist area also helps to get the classic and elegant look.
Best for Different Occasions
Besides waist training, underbust corsets can also be used to enhance the looks and dressing. Therefore, nowadays many people have made these corsets as a fashion symbol, and they wear them during different occasions. These corsets not only help them to look smart and perfect but also add more charm to their outfits.
[Read more about Waist Training]
1. Festivals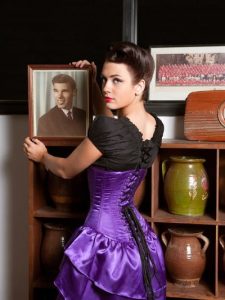 Almost everyone and especially ladies seem to struggle hard to choose perfect clothes and accessories during any festival. In such time, wearing corsets can help them to fulfill their desire of looking elegant and different at the same time. For celebrations, a particular type of corset can be arranged rather than wearing a casual black corset. Mesh, leather, and brocade these materials can work correctly during festivals. Additionally, corset with other trim, embellishments, fancy laces and ribbons can also be ordered for any unique celebration.
2. Holiday Celebrations
For holiday celebrations, a bit casual and stylish corset can help to give a perfect look. Black colored corset with mesh/leather material along with a long maxi can provide a gorgeous look. Waspie style corset can also do wonders if worn on long dresses.
3. Halloween Parties
For Halloween parties, more fancy and enchanting corset should be chosen. Usually black colored or other dark colored corsets can go well on such events. Along with underbust corset, lace gloves, rhinestone necklace, matching jewelry and matching colored top can give a perfect Halloween party look. Different additions can be made according to the personal choice and appearance.
Four Tips for Wearing Your Underbust Corset
Make sure your front, back, and middle parts are strengthened firmly to provide optimal support and shape.
Try to put on a shirt or camisole under your underbust corset to ensure the wicking rate and the corset clean.
Be sure to add factors such as your figure, personal style and target occasion to your mind to find the perfect corset.
Please take care of your underbust corset, instead of just throwing it into the washing machine and hang it in the wardrobe.
Conclusion
Underbust corset is impressive stuff available in the market for ladies. These corsets help them to reduce inches and belly fat to acquire perfect glass hour-like figure. Furthermore, it also gives them trendy and elegant look no matter if they are part of a formal dinner, casual parties or lavish parties. They can choose corset of their choice and can look drop-dead gorgeous. However, for choosing underbust corset, size, shape, and material should be chosen wisely and according to user requirements.