You might have seen ladies around wearing corsets, is it in fashion or it's on target? You will get to know in the following article by evaluating experts opinions.
After your baby arrives, there are lots training to be done like sleeping training, feeding training, but the most important is waist training for moms. We have seen that nowadays modern moms are wearing a corset to get their post-baby tummies in shape. This concept is the traditional design of 16th-century and now known as belly wrap. All of these signs seem to indicate that if you want to support, comfort and help restore your pre-pregnancy body, the postpartum belt may be just what you need. These waist trainers like corsets and wraps assist you in getting shape but are they safe to use and how does it work?
Waist training means covering your abdominal wall from ribs bottom to lower waist with a corset. It helps you in reducing waistline naturally. According to experts tightening waist aids in fat loss by inducing thermal activity which gets you in shape. Many moms have used waist trainers to shrink postpartum shape and get to their pre-pregnancy weight. Celebrities like Burke-Charvet has used it and now started her line of waist trainers. Many non-celebrity moms are using it and are happy with the slimming results. There are some waist-cinching brands that you have to wear all day and some for 8 to 10 hours in a day.
Does Waist Training Work for New Moms?
Before discussing whether postpartum belly wrap is helpful or not, we need to talk about post-birth biology. According to Dr. Ross, fluid and hormonal change during pregnancy occurs, and the amount of water in women body after birth can be severe, painful and appalling also. For some ladies, this water retention after delivery is much painful and uncomfortable than pregnancy. It takes almost four weeks for this water to disperse entirely and about six weeks for the uterus go back to its original size. Thus a fluid loss and tummy reduction happen naturally with time whether you wear postpartum belly wrap or no.
Postpartum undergarment such as belly wraps and waist trainers state that they help in fluid loss and uterus shrinkage, but it's not medically proven. There is no research indicating that these shapes wear help you in weight loss. We need to understand the mechanism behind this efficient design of belly waist; they do not change fat deposit but relocate fluids, tissue, and organs in a body.
And there are many factors, such as diet, exercise, breastfeeding, and genetics, that can affect your recovery from your pre-pregnancy body. So whether it works depends on your physical condition and lifestyle.
Waist training is a good option for looking slim especially if you are going out somewhere. The corset can give you confidence by making your appearance perfect. According to the famous Dr. Ross, Postpartum Compression Corset is ideal for new moms as it helps in maintaining thighs and hips after natural delivery.
Are They Safe?
If you intend to use waist trainer as it says to get slim, they are safe. You have to wear them for 8 to 10 hours in a day which feels irritating at the start but later on your body get used to it. However, prolong wearing, or the stomach is bound too tightly may cause some mishaps such as they might fracture ribs, restrict movement, limit abdominal muscles and cause you breathing problems and fainting.
If your doctor recommends them, you should not use them on a regular basis. You can use them occasionally such as if you are going to a party. It will make you look slimmer and boost your confidence. However, if you feel some problems with breathing or anything, you can lose the waist trainer, or you can completely stop using them.
Many ladies prefer to opt pregnancy girdle because they help in bringing back your organs and you can get your crotch area back in shape.
[Read more about Pregnancy Girdle]
Pros And Cons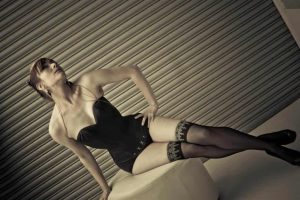 Pros
A postpartum corset is convenient to use with adjustable and hook eyes closures.
They assist you in looking slim instantaneously by tightening the muscles.
It can easily access the groin with hooked flap.
The flap with hooks also facilitates postpartum urination and helps to keep the perineum clean and dry.
They are safe to wear unless you do not make them very tight and use them for a longer.
It's significant support after having a baby.
Reduce uterine swelling by safely supporting and compressing the abdomen and waist.
It helps in bringing back your body faster and reduce complications by maintaining the right posture.
Since compression of the abdomen and uterus through it contributes to lymphatic drainage, the collection of body fluids is restrained and therefore cures more quickly.
It will help ease the back pain.
Postpartum shapewear such as corsets is not time-consuming.
New moms do not have time for the gym, and postpartum girdles assist them in getting the pre-pregnancy weight back by looking slim.
It also boosts your confidence and self-esteem by keeping your stomach in the right place.
Cons
Corsets are not comfortable to wear.
They are stiff, and no one can wear them for 24/7.
Being a new mom, you want to cuddle and hold newborn, but these corsets would not let you do as they are tight on the tummy.
Corsets probably are not a good option if you are suffering from super postpartum pain.
They are named as old-fashioned and embarrassing by some ladies because they do not want to show that they are wearing corsets.
As long terms effects they do not help in reducing waist sizes.
The Difference Between a Belly Band And a Postpartum Girdle
In addition to the postpartum girdle, the belly band is said to help women return to their pre-pregnancy size in a short period. However, the post-natal belt is often a better choice. A belly band usually has the following disadvantages:
The materials it contains are easily shredded.
Its closures are the Velcro with an unattractive and bulky appearance.
It also generally rubs the wound position due to a lack of fit.
Moreover, its benefits are limited. A belly band has only two advantages: it relieves pain and brings convenience to everyday life by supporting your tummy and lower back; it makes it easy to buckle down your unbuttoned trousers. By contrast, you already know a lot about the substantial benefits of a postpartum girdle.
How to Choose the Best Postpartum Corset
Everyone wants to choose the best postpartum corset such as belly wrap, belly binder or postpartum girdles. There are specific factors for you to consider:
1. Comfort
Keeping in mind the fact that you will be wearing a post-pregnancy corset all day for a month or more, you should buy the one which is more comfortable and easy to carry. It should not hurt your body.
2. Wear-ability and Invisibility 
As you wear corsets under your dress, you need to make sure it's not visible to anyone. It should be comfortable to wear and take off. Some corsets get down when you move, so you need to assure that.
3. Quality and Effectiveness
There are many post-partum maternity girdles available regarding quality and type. You can't take just by looking at someone; it might be perfect for her but not for you. You have to do thorough research and read mom reviews before buying. You should buy the one that suits you and under your budget.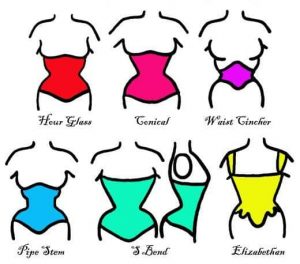 There is much postpartum shapewear available in the market; we will talk about some famous ones.
The Belle fit Postpartum Corset is medicated and works effectively for your abs. It is specially designed for moms that have gone through C-section to provide them better support. C-Section Recovery Corset is made of fabric known as microporous which will not sweat and is comfortable to wear. It comes in 4 styles namely bellefit dual-closure girdle, girdle Pull-Up, Belle fit Corset and bellefit postpartum girdle with zipper.
Belle fit Postpartum girdles do not slip once worn and help reducing back or abdominal pain by providing support. However, according to some users, Bellefit girdle causes roughness on thighs. Postpartum Support Girdle is specially designed for women who have natural deliveries. C-section women can use it after two weeks of operation.
Girdle Corset Recovery is the best postpartum girdle as its three separate adaptable pieces solve the problems of belly, waist, and pelvis. It comes in only one size but can be adjusted by loosening or tightening. It is advisable that you first use belly belt for seven days and if you need further support, you can use it with a waist belt for more weeks. It is made of high-quality porous fabric which is lightweight and comfortable to use. It only comes in nude color, and it uses a Velcro which is visible under the dress, unlike other wraps.
Conclusion
Thus these postpartum belly wraps and Corsets have been in use for decades primarily in reducing postpartum baby weight in an area like hips, waist, and belly. There are many best postpartum girdles available on the market, but they alone are not helpful in reducing weight, you need to do exercise and dieting as well. These crochets should be used very carefully as if it is too much tight it can create problems in the body. There are many companies which are famous for making shapewear. You can buy these corsets from anywhere keeping in mind your need, quality, and other measures.