Waist trainers are trendy among women, helping their silhouette, and corsets and bustiers are also well known. Many people think a corset is a bustier, but in fact, they are not the same thing, and they are used for different reasons. So how to tell their differences?
Basic Information About Bustiers And Corsets Tops
What Is a Corset?
The corset is a lady's main article of clothing used to support the waistline, hips, and bust, which can be used to reduce your waist 3-4 inches and extended wear can reshape your body to make your body ever more curved. There are two types of corsets: underbust (which is cupless, also called waist cinchers) and overbust (which is with cups over your breasts or flat style.) This garment is a tight-fitting ladies' top, much of the time, strapless and sturdy, with hook and eye closures tying back, front or both together, so you can more easily put them down.
Also, boning is almost always appeared in corsets to provide support, and even steel boning is used to the best one as it can bend to ensure maximum sustainability. Notice that some of them are ornamental corsets and may have plastic or nylon boning (both of which are often referred to as "light" boning), unlined and unsuitable for heavy wear or corset training.
Besides, corsets are a bit costly because they require a particular quality standard of development to work legitimately. They sit lower on the hip and are designed to secure the midsection.
What Is a Bustier?
Bustiers are very similar to corsets because they are usually also tight and sleeveless, but may have shoulder straps. They are generally very fancy with decorative materials such as satin, silk, lace, and perhaps plastic or nylon light boning as reinforcements for vertical seams, which can also offer extra shaping, but they 're not designed to hold you in or reduce your waistline.
A bustier is often used by women as lingerie or evening dress as it has stretch and is as easy to wear as a bra. You can wear it either as under clothing or outerwear or even alone, just fastening it and go. As a bonus, the only difference between clothing bustiers and lingerie bustiers is the fabric: lingerie styles are sheer, lace or something else that should be worn under the clothing.
The bustier does not sit as low and end up at the waist rather than the hip. The bustier is intended to highlight and push up the bust. These are mostly lightweight than the corsets.
5 Differences of a Corset and a Bustier
1. Different in Styles
The styles of corset and bustier are quite distinct from each other. They are made of different fabric and material. Some of the main differences are described below.
Corset Styles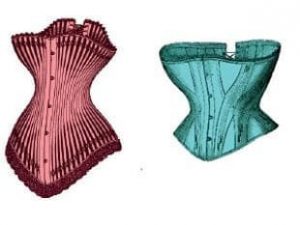 Corsets are durable than a bustier. Corsets are helpful in shaping up the body by holding everything in. It also makes the abdomen appear to be small while emphasizing bust and hips. A few undergarments bind up the front, back or both while others have a hook and eye closure that causes you eliminate them less demanding. When you purchase your undergarment, you will have to think if you might want an overbust or the underbust style.
Overbusts give a strange outline under apparel, as the breasts are pressed into a perverted form, inverse to that made in a bra. Underbust corsets tend to be more adaptable as they can be worn as underpants or outerwear. These corsets stop underneath the breasts, leaving them uncovered, while overbust undergarments cover and bolster the chests as well. Straight-cut neck areas give a more "balconette" look to the breast. These are most appropriate to those with a bra size of a small or D-glass. Sweetheart neck areas cover the breast and plunge lower in the center. They offer help and elevate conversely enable the breast to stay in the undergarment without "over-spill." These are useful for bigger busts.
[Read more about Overbust Corset]
Bustier Styles
Most bustier are sleeveless however some may have a shoulder strap and are either secured by a hook and eye closure. A few bustiers are strapless while others have straps that might be evacuated. Bustier provides the secure fitting, and you can wear as both underwear and nightwear. They are not made to hold you in or decrease your abdomen size. Some may have light-holding and will give you the new shape you need. Most bustier contains lace or string to fix and secure the bustier. It can be set in the front or the back. The distinctive textures, hues and style alternatives are everlasting.
2. Different in Flexibility
The corset is different from bustiers in terms of flexibility. Main features are:
Corsets – Rigid
The flexibility of every corset and bustier is distinct from each other. Corsets are made up of steel bones mostly, therefore, are quite rigid. They are used to reduce the natural waist size. It is also used to train your midsection into the hourglass figure. They keep the body in shape for hours. A corset is inflexible due to which it squeezes the body.
Bustiers – Flexible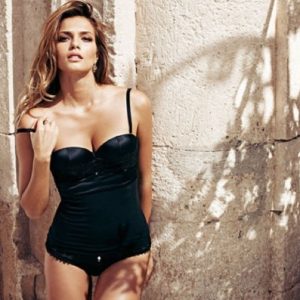 If you need to buck up your abdomen and lift your breasts for a couple of hours, a bustier will handle all. Only know, there will be no lasting outcomes. An advantage of a bustier is that it would not have steel bones which make it flexible. It does not squeeze the body yet it gets into the shape of the body.
3. Different in Closures
Corsets usually have closure of laces while bustiers have hook-and-eye closure. However, some bustiers have laces as well.
Corsets – Closed with Laces
Corsets were expected to give an even line from the clamped in the midsection to the bust. Corsets have laces closure which makes them more functional. These laces are easy to bind. However, it is not certain that these laces will not open anytime. You have to tighten up the laces well if you want to save yourself from any problem.
Bustiers – Closed with Hook-and-eye Closure
Bustiers have hook-and-eye closures. These are similar to the bras. If you want to lose weight or to plan to gain the weight, then you need to purchase a bustier. Whether you do exercise or tough work, you can wear it comfortably and adjust with hook-and-eye closures.
4. Different in the Intent
People wear the corset with a different from bustiers. These are: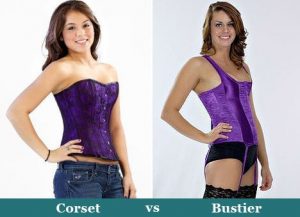 Corset – Cinch
The purpose of the corset and bustier is distinct from the other. The cincher precisely does what its name suggests. It cinches into the abdomen. The cincher stays underneath the bust line. Along these lines, you can envision a cincher as merely the base piece of a corset.
Bustier – Boost
Bustier usually contains cup-shapes which are made into the top piece of the article of clothing to support the bust. Bustier includes the curved lines that were more alluring than the smooth edges of a corset. The cups are more like a modish bra, which additionally is intended to boost the cleavage.
5. Different in Sizing
Corsets and bustiers are accessible in a wide range of sizes to suit distinctive body shapes. It is quite imperative to locate the right size of bustier or corset which suits your body perfectly. It is likewise critical to test out each length of the corset. Corsets of similar size might have larger front or back. If you are going to find the bustier, then you need to remember your breast size. Bustiers are quite flexible so they can be adjusted but this is not the case with corsets. They are not flexible, so you have to measure the corsets length from each side. First of all, take your body measurements and write them down. After that, purchase a corset which is according to those measurements. Whether you need to buy a corset or bustier, you ought to dependably check the busk length.
Conclusion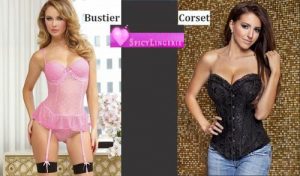 Corsets and bustiers are in use for many years. On the other hand, with the passage of time, they have turned into a style statement. Corsets are used by many women across the globe because they provide hourglass figure in just minutes. Women love immediate results which corsets can give them. These are expensive and are available in various shades and sizes. However, some precautions should be kept in mind while wearing a corset.
Bustiers are not prevalent in the world, but they are quite useful. Bustiers can be worn comfortably under the clothes. There is no harm to use the bustier for a long time as of corset. You can wear bustier at night time or daytime. They are flexible and can become accustomed according to the shape of your body. They are quite cheap. Nevertheless, corsets are not recommended to wear at night. Bustier does not provide quick results, but it is feasible to wear for those who face rapid body shape changes.
Both bustiers and corsets are looks exquisite and sexy. Hopefully, these cache of information will help you explore the best fit and favorite one.