Corsets are now considered compulsory wear for women. Nowadays, it is possible to make an hour-glass figure by using corsets. It could be fun as well wearing and using stealth corsets. Stealth corseting can make your body an hourglass figure quickly. Corset has been a part of women dressing for decades, and they wore it with all outfits. However, in this modern era, the tricky part arises when one does not know what outfits to wear. Women now are wearing lower tops and jeans, which makes them look bulky from the lower abdomen when they wear corsets.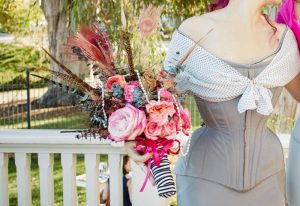 There is a variety of corsets on the market. However, what to choose and which will go with your outfits? Women now focus more on their body and dressing, and corsets have been a crucial part of their life. Ladies prefer waist training with a corset more than exercise these days with their tight routines and kids. Especially those women who do jobs and should look after their family too this is the best training for their waistline. Corsets also support the body, highly recommended to women who pass through the pregnancy process.

When you are wearing corsets, your goal is to get an hourglass waistline or any of your desired waist you want to reach. For this purpose, when hiding corsets below the clothes make sure to use proper outfits. For some time, wearing natural waist outfits will not affect your personality. Use clothes that naturally fits your body. Wearing tight clothes will make your abdomen area look fat and would be the cause of discomfort and heavy breathing.
8 Critical Factors that Contribute to a Good Corset for Stealth Corseting
1. Corset Color
Are you buying a corset? Are you confused what color you should buy that would hide under your clothes? Buy any corset that you love; it does not matter which color you buy. Wearing corsets is a technique that you need to understand ladies. Sometimes dressed in a skin color corset will not be able to hide under your bright clothes.
Women wearing thin clothes should consider buying lightweight corsets with soft colors that can easily go under their routine dresses. That is not enough; you can also pick any of the corsets that can go with your gowns and jeans. If you are still confused, just choose the one that closes to your natural skin tone, don't worry, many online and retail stores have their exchange and return policies.
2. Corset Material
When buying a corset, one can face many confusions and difficulties. It is evident that if you wear thin fabrics more is the chance of difficulty in hiding your corsets underneath. Had a time when you have faced problem hiding your bra and panty line under your thin and short clothes? This situation is just like that and hiding corset can be harder than that. If you want to wear sheer dresses, and you are going to a party where you want to draw attention to yourself than wearing a corset would not be a good idea.
To draw attention and look beautiful in the eyes of the crowd is every woman's wish but to accomplish it one needs to understand the dressing sense with corsets. Wearing corsets with sheer dresses can let people sneak into your outfit. However, there are so many outfits that can go with your every corset you even can't imagine. Try different tops, higher waistline jeans and dark color t-shirts that can easily go with the corsets and highlight your hourglass figure. It is preferable to wear dark colored dresses which you can easily hide under your outfit and which can go with every corset.
For best results, you should choose the corsets are made with lightweight and relatively smooth materials, such as mesh, satin, or leather, as they are easier to hide under your clothes.
3. Boning Pattern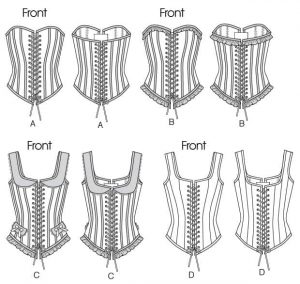 People can use the boning pattern for making clothes and fabric stiff, so they can easily maintain their original shape. Sometimes outfits can get wrinkles and their shape changes, but the boning pattern can make them stiff for a longer time. Although it could be expensive sometimes, still it is worth trying to have a corset that can provide many years guarantee. There are some advantages of boning pattern corsets which are:
You can breathe well in the corset.
These corsets do not bend at the waist.
They are stiff, so they provide support too.
People who have back pains, and they cannot easily walk because of it can use these corsets.
The corset is very strong, but the fabric is thin.
You can readily wash the corset, using your detergents would not harm the fabric of the corset.
It is available in many sizes in the market.
They are comfortable for ladies who need to work and look after their kids all day.
4. Top and Bottom Edge
Top and bottom edges should be stiff and may not open quickly. The corsets sides should be thick and boned that can provide an alignment to the body posture. It provides support to the body.
5. Front Closure
Front closure corsets make your figure look prominent and in shape. They make you look sexy although you can feel a little uncomfortable choosing the right corset will help you to overcome this factor.
6. Back Closure
The back closure includes zipper, buttons or ribbons that one can use to show off their hourglass figure. These kinds of corsets should not be utilized by a mom who works and looks after their family; they can get uncomfortable in their hectic routine.
7. Make Sure it Fits Perfectly
To achieve the best hiding result and enhance your hourglass figure, you need to buy a corset that fits you perfectly.
8. Choose a Corset with Satin Laces
While nylon and cotton laces can be well hidden under your clothes and dresses, but strong, smooth satin lace can conceal more discreetly.
More Tips for Stealth Corseting
Pick the right clothes.
Ensures accurate measurements.
Do not over-tighten it so as to avoid damage your bones, organs, and corset.
Don't forget to sit up straight while wearing the corset.
Be careful of what you eat. In addition to wearing the waist training corset every day, proper exercise and a healthy diet will result in a permanent, perfect body shape that you desired.
Highly Recommended Corsets for Stealth Corseting
Below are the three highly recommended stealth corsets that can be used for a quick result with comfort and style together.
1. Orchard Corset CS-411 Cotton Corset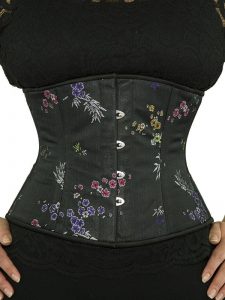 If you like to wear thin and comfortable outfits, then cotton corset is just meant to be for you. Sometimes for ladies in the start, cotton can be a little unadjustable for three to four days. However, after that time the texture gets comfortable with the body and work the same as other corsets do. You can also wear thin outfits and little jeans, whatever you like. The CS-411 cotton corset contains 22 spirals and is designed for average torsos. It is the highest recommended stealth corset that fits perfectly good for most body types.
Top advantages
The top benefits of this corset are:
They are short, and you can easily hide them under your clothes.
You can quickly move when wearing them. After some days, you will get so comfortable that you will not even feel the corset.
The fabric is so comfortable that you will love it.
The results are quick because of the corsets flattening shape.
2. Alivila.Y Satin Vintage Underbust Waist Training Corset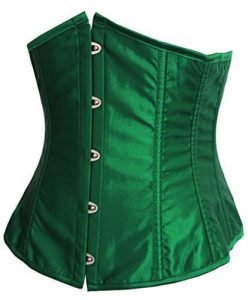 This 100% cotton contained corset is best and most suitable for waist training. If you want an hourglass figure this is must require a tool to achieve your goals. They have a plastic boning pattern with steel bars that can make the material stiff. It is a re-known brand with a vast number of corsets available on their website. This corset also goes with gowns and tops, as it predicts style and fashion. Women who want to enjoy their time wearing lingerie and tops can make corset a part of their outfit.
Top advantages:
The benefits of Alivila.Y Satin Vintage Underbust Waist Training Corset are:
The corset is durable and provides support to the body.
It also protects the outer fabric; it also has a cotton lining which makes it comfortable.
It provides rapid results for the waistline.
It is comfortable yet profoundly beautiful that can make you look stunning.
People use high-quality materials in the corset that provides an hourglass figure.
Women who love fashion, this is a must thing in your collection.
[Read More about Waist Training]
3. Hourglass Creme Cotton cincher from Lucy's Corsetry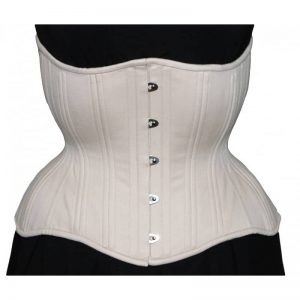 This corset more focuses on the comfort and durability. The fabric of the corset is soft and provides a collection of corsets with light shades that you can comfortably wear under your all outfits. The primary purpose of this outfit is to reduce your waistline keeping comfort in mind. The comfort is quite an issue that many women face during their waistline training with a corset. Choosing this product will help you to overcome this problem and enjoy the benefits of the corset. They also provide short corsets so that you can lift your baby bump and look perfect.
Top advantages
The Hourglass Creme Cotton cincher from Lucy's Corsetry has the following benefits:
It guarantees a small waist.
The fabric used to make this corset is very breathable and soft.
Wearing them can provide an hourglass look.
This corset can provide support to the body and correct your posture by supporting both abdomen and back.
Provides an elegant and decent look when wearing tops and gowns.
It is suitable for women with a shorter torso.
Conclusion
Corsets are now a crucial part of women's everyday outfits. However, choosing a right corset that suits your body is also necessary. Before buying any corset ladies, you need to overcome the factors that we have described above. If you feel that you are more like a modern chic, and style is your thing you must go for Alivila.Y Satin Vintage Underbust Waist Training Corset. If you prefer comfort and stiff corsets that can provide support to the body and are light to the skin, then Hourglass Creme Cotton cincher from Lucy's Corsetry and Orchard Corset CS-411 Cotton Corset are highly recommended.