Every one of us wants to look perfect. Everyone wants to have the perfect body but attaining that ideal look may take too much time. Having extra and stubborn body fat makes you feel uncomfortable while wearing tight-fitting costumes or swimwear. It often makes your confidence lower and cut you off from your social life. And you stay at home for a month, and that loneliness may lead you towards chronic depression.
So if you 're obese or have an unwanted protruding belly, then you 'll definitely fall in love with the slimming belts.
What Is Slimming Belt?
The slimming belt is specially designed belts which are made up of synthetic polymer, usually looks like a rubber and provides resistance against oil and weather. This synthetic polymer is neoprene, and slimmer belts are with this neoprene wrap. All you have to do is put it on your waist and turn it on so it will sweat off the excess fat. It helps tighten abdominal muscles and are very comfortable to wear under your clothing.
The purpose of slimming belt is to reduce the extremity of your midsection and help reduce excess water weight by raising the temperature around its application area. It lowers the unwanted and annoying body fats up to specific inches, and it is also useful if you have an occasional pain or aches in the back, most importantly, it improves your posture. The slimming belts are inexpensive to purchase and can increase the effectiveness of the regular exercise. Also, the belt is adjusted to fit many different waist sizes perfectly.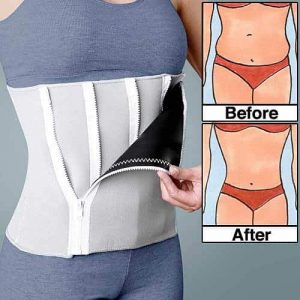 But regarding weight loss, the result can vary as some say the result is temporary. After using the slimming belt, you 'll end up sweating and get dehydration. When you take off your slimming belt, your body decompresses and goes back to its normality. It may never remove body fats for good. The unwanted and stubborn body fat rebuilds once you remove the belt.
Therefore, in order to reach your weight loss goals, you should follow calorie-burning exercise, maintain a healthy diet, and reduce your intake of high-calorie foods. At the same time, It's a much more secure way of seeing your doctor before starting any workout or fitness plan.
Do Slimming Belts Really Work?
The slimmer belt is cheap affordable and accessible way to get your desired body shape without any pain or hard work. It does remove your fat cells to a certain extent. But you can never imagine that the result will be long lasting as its vibratory motion and sweat causing effect will burn all your body calories. This belt will do let you have a slimmer waist and lower the fat from back muscles. It also provides you with bump free appearance. Continuous wear of a 30-minute slimming belt each day results in a reduction in the number of inches around your hips, arms, legs, and waist as you can see in the first few weeks, you may even look slimmer and sexier.
However, rest sure the slimmer belts can be a waste of time and money if you are not following the proper diet plan and not making running and exercises your priorities as the results are short-term. But the effect of the slimmer belt is also limited as it will not permanently provide you with your desired body shape. The lost inches are just the weight of fluid and water that you may gain back right away.
Even though a slimming belt won't help in weight loss, the achievement can be fruitful and long lasting if you follow the strict diet plan and take some exercises along with slimming belt.
How Does the Slimming Belt Work?
The slimming belt is a body wrap belt. It wraps your body tightly and can be comfortably worn under your clothes. This slimming belt acts like that if someone has undergone the peak exercises as it causes the fast sweating.
The belt should not be that tight so that it can disturb your proper body functions. The belt causes a placebo effect. It keeps your core engaged. And make you feel like a gym. The tight belt also brings the warm sensation, and increased body temperature will burn the excess calories.
1. Vibrating Motion
The vibratory motion of slimming belt is the due to a small device held the top of the belt. It feels like a vibration of your phone. Some slimming belt would have the vibratory motion device attached to them while some are just regular slimming belt without any vibratory motion. But the belt with the movement enhances the result and enables a person to get a slimmer waist. It moves back and forth like typical vibratory motion. This motion will cause your muscles to contract a bit more. You can use it for thirty to forty minutes. The action of the belt can be used in any posture while standing sitting or doing any other job. The motion of slimming belt also causes fast digestion of your food. Therefore, this can also be used as your abs exercise and has proven to be useful for losing body fat. Vibratory motion is often annoying as a person feels the constant vibration and feel irritated. But to have the result, one must bear these vibrations to get the desired result.
2. Increasing Sweating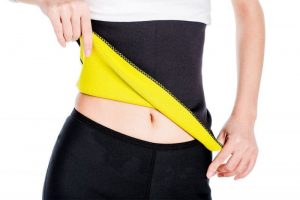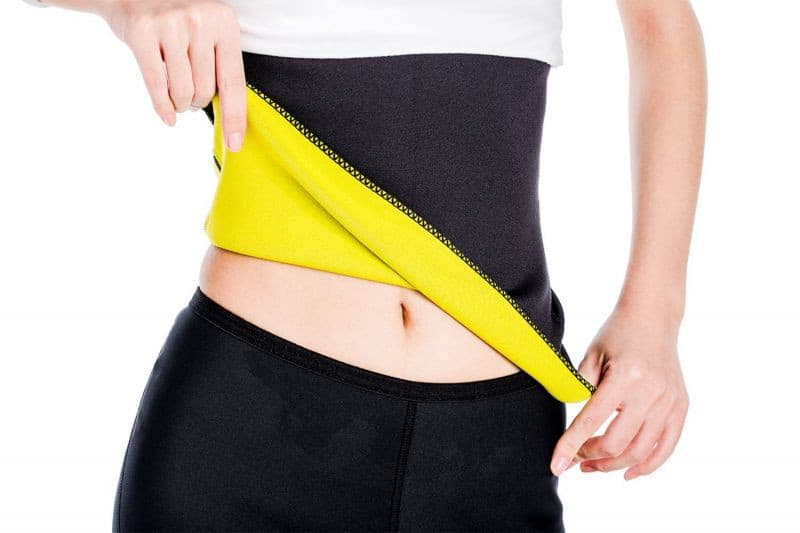 The slimming belt is made up of usually thick fabric, and the air can't cross the product. When you wear these belt underneath while working out, it will help you to increase sweat production. And the increased temperature also leads to excess sweating. This sweating may wash away some stubborn fat from your body. Results have revealed that these belts are effective due to a sweating effect. But a person needs to remain itself hydrated before or during the process of slimming belt to have a safer experience. Increased sweating can be dangerous sometimes that it is not necessary that the excess sweating is only coming from your fat cells. It can make you weaker and lower your blood pressure as well.
Seven Tips on the Best Way to Sue a Slimming Belt
Here are some tips and tricks that will be beneficial enough for you. To let you have your ideal body and can be the best way to sue a slimming belt. Going through to each of them to have a better workout plan:
1. Boost Your Belt
Try making your waistline a bit smaller. Never use belt or corset in your wider area. Adjust it to the upper area towards your breast. Empire tops are the other choices which always provide you with comparative thinner look. They will hide the lining of your stomach.
2. Start Your Day with Healthy Breakfast
Don't miss your breakfast at any cost. Try to have your breakfast containing 300 calories. The food should be a mixture of protein and grain. A sandwich with apple butter or peanut butter is a must have food for you. Remember, never miss the food and always pursue a healthy diet.
3. Use either any Belt or Shape Wears
Try using those belts or shape wears fabrics that have more thin fabric, as you use these as inner garments. You can also try some shapewear in the markets that have V-shaped neck these jackets tight your neck and tummy fat as well.
4. Try High Quality and Well-fitted Costume
There are numerous undergarments that support your body well and let you have either temporary or permanent result of your body. Your favorite outfits will be more fitted and fine. Try using the material which is of high-quality fabric or material. Don't compromise on the quality. As more you will invest the better will be the result.
5. Commitment to Your Goal
Commitment to your aim is something that you should never forget. Make a high commitment and not give up your workout plan after using your slimming belt or corset along with other waist training exercises. Try keeping yourself committed forget the people who spread negativity about your plan. Always Stay focused and use the slimming belt for at least 20 to 30 minutes every day and let people see the difference in you and set the example for others.
6. Proper Diet Plan
Slimming belt can be a good option to have a temporary toned body. But the first preference should be of having a proper diet plan. A good diet plan can be an even better option than that of the slimming belt. Try using fruits and green vegetables as snacks, not the chips. Use the water more not the alcoholic drinks or any other liquid alternatives. Try consuming low fats and fried item. Say goodbye to the fast food industries for good to have a seamless body with more healthy and safe diet.
7. Do Exercises and Running your Priority
Science has revealed that no any equipment and sports item can be that amazing than the result of running and exercises. It is a natural and long-lasting way to have the body of your choice. And even make you have more toned as well as healthy. Being healthy is more important than just to have a smarter and ideal waist.
Four Side Effects of Using Slimming Belts
While the short-term weight loss is encouraging, slimming belts may have some side effects that will make you think twice and consult your doctor before buying.
1. Imbalanced Electrolyte Level
Excessive sweating can cause electrolyte imbalance in the body. If you find yourself experiencing muscle cramps while wearing a slimming belt, stop using it immediately and consume an electrolyte-containing sports drink.
2. Dehydration
Wearing a weight loss belt can lead you to sweat heavily and become highly dehydrated. That 's why the experts say overuse the slimming belt may be harmful to the body. So drink plenty of water on days of using the belts.
3. Increase Your Body Temperature
A weight loss belt keeps the body sweats all the time to give you the desired results, but it doesn't allow the body to cool down. So If you use the belt at high temperatures, it may increase the risk of heat-related illnesses such as heat exhaustion, heatstroke, and fatigue.
4. Skin Irritation
A slimming belt holds perspiration against your skin while preventing fresh air from flowing over. Long-term use of slimmer belt will encourage the development of rashes, itchiness acne and burns.
How Long Should You Wear a Slimming Belt?
Even though you may not experience its side effects, but too much of anything is not good. Thus, you should wear the belt for no more than 45 minutes.
Who is Unfit to Wear the Slimming Belts?
You should not wear a slimming belt when you are pregnant. Meanwhile, if you notice unexplained belly or back pain and severe breathing difficulties while using it, you should stop using it immediately and see your doctor right away.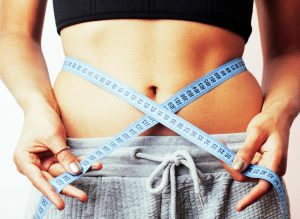 Seven Top Brands of Slimming Belts You Can Choose
TNT Pro Series Waist Trimmer Weight Loss Ab Belt
Sports Research Sweet Sweat Premium Waist Trimmer
EzyFit Adjustable Waist Trimmer Belt
AZSPORT Waist Trimmer
McDavid Waist Trimmer Ab belt
Bracoo Adjustable Waist Trimmer Belt
ActiveGear Premium Waist Trimmer Belt
Conclusion
Manufacturers have made slimming belts with a neoprene material that let you have a seamless appearance. These belts will remove fat from your body, tighten your waistline and midsection and act like you are performing aerobic exercises which become the cause of weight loss. The result of these belts is not long lasting. But these belts provide you with better posture and give relief from some occasional pains and aches. If these belts are used with healthy dietary plan, supplementary exercises and running, then they can be useful and act like a better and amazing workout option. Following the above-suggested techniques will help you achieve an hourglass figure without having to face any side effects.