You may often ask yourself a question, "what is the difference between a waist cincher and a corset?" In fact, waist cincher and corset are different in many ways.
Many people usually assume that these two things are quite similar, but it is not the truth. These two pieces of training can be used together to reach your waist training objectives. The term waist cincher is used to define those particular shaping clothes that are going to prominent your abdomen. It will squeeze your body about an inch or two from your waistline. When you wear it, then it will automatically adjust according to your body, and you will look slimmer.
Many women that have large abdomen wear waist cinchers to look smarter in each dress. However, you can wear corsets on and under your apparel. These are specially designed to make hourglass figure. If you want to squeeze your body up to 3 to 6 inches, then you need to use corsets. These corsets are available according to the type of body figure you have. Also, it relies on how much weight you have on your abdomen.
[Read more about Waist training]
Definitions of Waist Cincher and Corset
Corset, a new term from the 18th century, represents stiff clothing that supports and shapes the torso, with options in the form of back lacing and front fastening. Now you can call it a "traditional steel-boned corset." Usually, it refers primarily to a female fashion, though it is occasionally used in a male fashion.
And the waist cincher often referred to as a genuine corset, is a kind of corset that looks like a belt, just shorter than the full underbust corset. It is designed to shrink the waist by using plastic stiffeners and elastic materials.
Seven Major Differences between Waist Cinchers and Corsets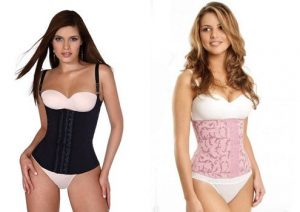 If you are interested in waist training, which involves losing weight and slimming waistline, you need to know which garments are right for you. There are numerous differences between waist cinchers and corsets. However, now we are going to discuss only seven main differences between these two things. They are explained below:
1. Construction
The steel boned corsets are crafted from quite durable and flexible fabric. They are unbreakable because of steel boning and make the corset robust. Corsets will quickly pull your waist and highlight the curve of your hips and bust line, whereas waist cinchers are made up from different materials. These are constructed from a mixture of materials including nylon, latex, and spandex. If you have too much weight on your waistline, then these waist cinchers can make you look beautiful.
2. How to Fasten & Tighten It
Corsets are used to reshape your body in just seconds. These are easy to tighten up with the help of lace while a waist cincher cannot be tightened up fast. It does not have laces. If you have gained some weight, then you might need to get another cincher for yourself. It only contains hooks and eyes. You can just tighten up or lose it at a minimum level. The tightening and loosing depends on the rows of the hooks and eyes. Corsets are very fast to tighten up with the help of front busk. It is a corset piece which consists of 2 steel stays and one metal loop. You can tighten the laces that are present on the back of the corset.
3. Styles
Corsets are designed for the midsections. You can quickly wear corsets over your apparel. They come in many shapes and shades. If you want to wear them under your clothes, then you can also do it quickly. Corsets come in many style options like some have more or less extreme curves. Each stylish corset can fit a specific body type. Whereas, waist cinchers are also present in the market in a wide range of shades, patterns, and prints. You can also find the cinchers that are providing a vast array of different coverage. Waist cinchers are present from simple waist trainer to the thong bodysuits. The straps on each type of waistline are different in numbers.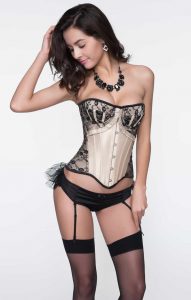 4. The Effectiveness of Waist Training
If you are somber about the waist training, then there is no other thing better than a corset. These are durable and designed in the best way to pull your waistline in a short time. You will not be disturbed while wearing these as they will make waist training an entirely natural process. Many people wear corsets for the waist training. Corsets are effective than the waist cinchers. However, waist cinchers can be utilized as part of the waist training program. The majority of women want a quick reduction in their waistline. For this reason, they wear corsets at night as well. You can wear corsets at night, but it is not suitable for all body types. You should get the right kind of corset for yourself and try to avoid sleeping in it. You can make use of both cinchers and corsets while sleeping.
These two products complement each other and will benefit you more. You will stay comfortable doing exercise or taking rest. These products will offer you support as well as shaping perfectly. On the other hand, corsets can be quite bulkier. If you want something to wear under your clothes to look smarter than waist cincher is a good option. If you wear diverse styles of the corsets, then you might get back bulge.
5. Materials They Are Often Made Of
These two products come in various materials. The primary materials used in making the corsets are satin, cotton, and leather. Long and flexible steel rods are also used in the manufacturing of the corset. These rods will provide the clothes a perfect shape. There are small steel busks present at the front of the corsets. These steel busks are fastened into the cloth. Also, satin laces are used at the back of corset to tighten up the corsets. With the help of these satin laces, you can quickly tighten the corset according to your choice of waistline reduction.
Waist cinchers are made only from synthetic materials. They are commonly created from nylon, latex, plastic and spandex materials. Steel boning is also used in making the waist cinchers. The steel boning is helpful in shaping up the body. They are also fastened up by using the hooks and eyes closures. They are present at the front side of cinchers. The materials used in waist cinchers provide strong compression which will reduce the waistline up from 1 to 3 inches.
Pros & Cons – Corsets vs. Waist Cinchers
Either way, cincher or corset has its drawbacks or strengths. Choosing most appropriate based on what your body need is the best for you.
Pros
Corset has many benefits due to which women all over the globe mostly use it. They provide a perfect hourglass shape to the body. If you want to get hourglass shape, then opt for corsets. These can be tightened up as much as you want with the help of laces. The skin of your body can breathe easily in corsets. If you're going to support your back, then corsets are good in it as well. These are durable and long-lasting.
Waist cinchers have their specific benefits. They are less bulky and comfortable to wear. If you want to put on them at night, then you can do it. They are quite comfortable and will not disturb you at night. These cinchers can be worn comfortably during workout routines.
Cons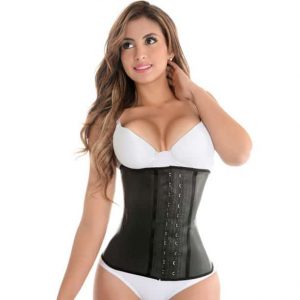 Everything has its disadvantages no matter how useful or beneficial it is. Corsets have only a few shortcomings like they are inflexible and quite expensive. Sometimes it causes inconvenience if you wear it for a long time. Shortness of breath, fainting, and compression of organs are the main dangers to your health.
It is hard to breathe in Waist cinchers as well. They are not durable, and the worst part is, you cannot tighten them up. Furthermore, it is tough to find a waist cincher if you have an extraordinary body size.
Besides, for people with the right waist length may enjoy a wait cincher more because it provides more mobility.
And people who are short of stature or who have a short torso are advised to use a steel-boned corset as full underbust corsets or waist cinchers on the market are often too long to raise your chest unnaturally or turn the chest over to the thigh when sitting down.
Who Can Wear Waist Cinchers And Corsets, Respectively?
Women of all ages can wear waist cinchers and corsets to beautify themselves. However, it is not recommended to wear these two products all the time. Females who should avoid wearing these products all the time are:
Girls who are at their growing age
Women who gain or lose weight rapidly
Ladies who have asthma or any other breathing issues
Which Is More Cost-Effective, A Waist Cincher or A Corset
Corsets are not cost-effective as compared to the waist cinchers. Waist cinchers are available at affordable prices ranging from 50–80 dollars. However, the corsets are available at more than 100 dollars.
Conclusion
Both corsets and waist cinchers have their pros and cons. Both of them are effective in many ways, and you don't have to worry too much about which one to choose. If you want to get dramatic slimming or a vintage look by these versatile garments, it is recommended that you wear corset or waist cincher for at least eight hours a day. If you want to wear them in the course of sleep, then always use waist cincher with a corset.
Those women must not wear waist cinchers that loss or gain weight fast. Otherwise, they can make them too much sweat which can cause dehydration. If you are wearing either corset or waist cincher, you have to keep on drinking water. Also, it is better to put it down for a couple of minutes and take deep breathes. It will help your body relax for quite a while which is highly beneficial for you.