There are those who have discovered the aesthetic effect of long-line corsets for their body while there are ladies who are still in the dark of what this fascinating garment can do to their short waist. It's no secret that for women with longer waists, long-line corsets can do miracles. They appear sexier, and their proportion looks so much more attractive when they are wearing these great garments. It is no wonder some of the women who have shorter waist are feeling the pangs of envy, but they shouldn't fret because there are corsets suitable for them as well.
[Read more about Corsets]
You have to believe that your corset should be unique. Not all corsets are the same, and no corset is right for everyone.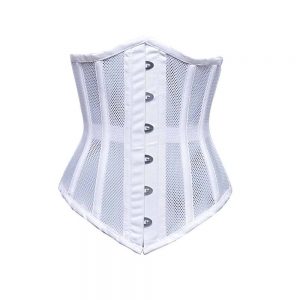 What is Long-line corset?
Long line corset is a kind of clothing that is longer than a standard corset but with the length not exceeding the bottom of your chest or the top of your buttocks. It brings a feeling that 's longer than your natural body, and it can be in different styles.
Why Do the Woman with a Short Waist Worry?
Most of the long-line corsets designed these days are suitable for the women with a long waist, and they are some kind of disheartening for the ladies who do not have similar physical attributes. They have to content themselves with uncomfortable long-line corsets that can hurt their things when they are sitting down. Their mobility is limited, and in turn, they are not happy with their selection. When a woman doesn't feel happy inside, it shows on the outside. So what we are doing here is we are trying to find a remedy to this dilemma by presenting some of the beautiful long-line corsets explicitly made for women with shorter waists. Isn't that exciting?
You Can Get Your Own Long-Line Corset Through Customization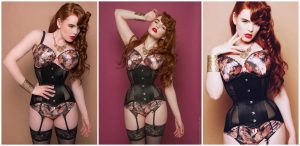 These days, women are much more empowered in society, and they can choose which lifestyle they want to have. They have more options especially in terms of clothing. Since there are limited ready-to-wear long-line corsets, women entrepreneurs have found a way to solve the problem by creating apps that will enable their fellow women to develop their own corsets. They can design their corsets using their measurements and voila! They have a corset design that can be customized uniquely for them. Some of these corsets are the full bust, and there are also underbust corsets that are also suitable for other occasions. The wonderful thing about this is that you can move freely inside because this is the right size for women who are shorter or who have shorter waists.
Apparently, it is a hit with the women! They love this new kind of technology. Instead of going to a dressmaker or couturier, they can just input their measurements on their phone app or online and have the exact design delivered to their doorstep. It is a made to order setup that works for everyone involved. The assortment of fabrics that you can choose from is really just a girl's dream. You can choose from the lace or leather ones, and you can look very feminine and chic or a sexy vixen while you're at it. It depends on your mood.
To get a long line corset that fits your torso, you first need to know your waist shape. Is it a short, medium or long size? Make accurate measurements or get help from an expert. Don't forget to try it on at this time, make sure you can quickly jump into it and take it comfortably for daily activities.
The Corset Design is Diverse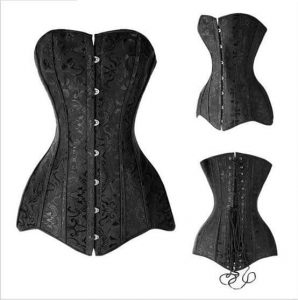 Of course, these days corsets are no longer just suitable for lingerie. They can now be either overbust or underbust varieties and can also be designed into different waist lengths and sizes. Long-line corsets are also great for parties especially bachelorette parties or even as sexy Halloween costumes. When it comes to parties, you have more freedom to choose a design or fabric that you like. You have to study your body, and if you learn that you need a long-line corset for your shorter waist, you can consider the fashionable orchard corsets or the steam-punk corsets. The unique designs are not for everybody. If you can handle it and you want to be more adventurous, you can try the ones the Kim K wears, and we're sure you will be a show-stopper at the party.
The long line corsets that get the most attention are the ones with beaded and lace details that are so popular with women. Have you seen girls from Playboy wear rabbit costumes that are made of sexy corsets? The way they cinch the waist is just a divine experience and girls can feel like superstars when wearing them. They feel powerful especially with matte black designs with the metal fasteners in matte black, too. It feels like you're leading a revolution and you are winning!
So don't you worry about your shorter waist because corsets are made for every woman to be comfortable in her own shape and size. Long-line corsets that hugged your body are supposed to make you feel great about yourself. If you are doing it for waist training, then it also screams the message that you are in control of your body and you want it to be as healthy and as sexy as possible. For every woman's big day, a wedding dress made of a long-line corset is just fantastic. The top portion can be covered in lace detail so as to show a little more modesty while the bottom portion can be tucked into a ball gown that accentuates the hourglass figure of a woman. Corsets can be a subtle detail in your wedding gown that no one will notice or it can be a very prominent design that can show off your sexy back. Remember that in the church, your back is always turned to your audience, you have to make sure you are as hot as you can be!
The trick with wearing corsets is to be true to yourself and not pretend that a corset that is suitable for a skinny woman will also fit you. When you know your body well enough, you can choose a long-line corset that will be perfect for the type of body that you have. If you have a shorter and more defined waistline then you are in luck, you will be the envy of your friends if you carry yourself well and wear a long-line corset that is reflective of your style. Fashion trends come and go, but the corset revolution is here to stay because it has proven its worth through the decades. It's a secret among ancient women, and today, it is for every woman to wear to promote femininity and grace, and even a little bit of sexiness!