Have you noticed the psychological tendency of women to hide the fact that they are trying to lose weight? They want to be nonchalant about the whole thing because if they let everyone know that they want to burn their excess fat, a sense of judgment is possible in the eyes of their fellow women.
We know a lot of women who are uncomfortable announcing that they are on a diet because if they fail, they will be ashamed that they haven't lived up to what they said in the beginning. An issue of accountability over your actions and responsibility on your physical growth? Perhaps, it can be explained in that way. It could also be that women just want to maintain the mystery. Whatever the reason for them is hiding about such things, the important thing is that it is possible to conceal such activity through stealth corseting.
It's a popular concept because women want to appear effortlessly beautiful even if they did exert effort to look attractive in the first place. What with the pressures of social media trying to portray women as perfect, now it is possible with the right technique and product. With stealth corseting, thinner corsets can be worn beneath regular clothes with no one noticing that they exist. Some corsets are designed in such a way that they terminate right below the breast area which is called an under-bust corset. This type of corset is more inconspicuous than the over-bust.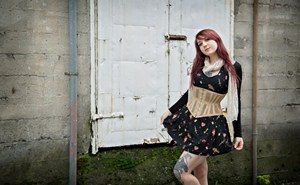 You have this option especially if you have dresses with unique necklines. There are also some tops that have low necklines, and if you use an over-bust corset, you risk exposing your cover. The better choice would be an under-bust corset. It makes you feel sexy without the added burden of being found out that you actually made an effort to look good. It is all about perception. Women are amazing with maintaining the illusion that they are helpless and delicate when in truth, they have secret weapons up their sleeves. Disguising corsets underneath floral dresses and ultra-feminine outfits are fun. Men don't have any clue that they exist which adds a bit of spice to the story.
You don't have to worry about finding the right waist trainer for stealth corseting. Major fashion brands proudly display their designs on their websites. You can just ask one of your girlfriend's or sisters' help in looking for the perfect corset.
[Read more about Waist Trainer]
There are different corset styles suitable for stealth corseting. The mesh design of some corsets is perfect for sculpting the body yet they are concealed perfectly beneath any type of outfit you choose to wear that day. It is exciting to shop for corsets even when you are just fond of online shopping. If you are not concerned about the time frame, then you can enjoy choosing great designs first. It doesn't mean that these corsets are hidden from view that they will remain like that throughout the day. They evoke a sense of mystery which is fun for a girl.
Sometimes, it depends on clothing choices. There are some fabrics that do not really fit well because they cannot conceal the corsets beneath. Floral and plaid prints can hide the existence of corsets. We also recommend ruffled blouses and dresses. The flapper dresses of the 20s are also good choices. There are actually thousands of outfits these days that can effectively hide corsets. Designers are working closely with corset manufacturers to produce modern corsets that are better concealed.
Certainly, coats and jackets can hide corsets. What you can do is choose fitted or tailored coats that fit the body so that wearing corsets will give you a curvy silhouette. When a woman's shape is accentuated through her outfit, she feels more confident. Have you tried wearing corsets underneath leggings and pants? That's possible with the right kind of corset. If you pair pants with detailed blouses, then you will not have to worry about corsets being visible to anyone. It will be your little secret.
A lot of women are raving about over-bust corsets because they don't have to worry about the shape of their abdomen as well as their breasts. They are well taken care of by one corset. Underneath a stylish dress, these women will appear confident and with excellent posture. Corsets are attractive and sexy as tops when they are exposed, but if they are intended to be hidden from view, they can lend a particular kind of finesse to the wearer. They adjust a woman's curves and proportion especially if the woman doesn't have full breasts. It can improve the overall shape of a woman's body, that's for sure.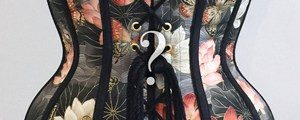 1. The Color of Your Corset
Wear a light or nude waist training corset underneath, such as tan, peach, creamy, beige or light brown, and you need to make sure the corset should be close to your natural skin tone.
2. The Fabric of Your Waist Trainer
Another essential factor in perfectly hiding the waist trainer underneath your clothes is fabric. We recommend that you choose a satin or cotton waist trainer as the satin is very smooth while the cotton is close-fitting, so neither of them is easy to find under the clothes. However, the cotton waist trainer is more durable and breathable.
Stealth corseting has become a significant trend, and it seems obvious that many women want it to be a phenomenon all over the world. That is definitely possible with fashion designers making it a consideration when they design outfits. There are many clothes designed with boning structures these days which are influenced by the corseting practice of the 18th century. Innovation in fashion is inevitable and more designs are coming up which are friendly to a diverse group of women.
When you wear a corset underneath your everyday outfit, you exude the confidence from inside, and when women from different cultures discover this, they will start using corsets every day. You can see that Asian women have also embraced this fashion phenomenon. Since they have slimmer bodies, what they are looking for is a better shape. They are modest in nature and would prefer to hide the fact that they are doing this, so stealth corseting is the best answer to this issue of theirs. When a design is excellent, it will undoubtedly be embraced by thousands of people who are happy promoters of these products. When customers are satisfied, they will be the ones to advertise the benefits of corseting to their circle. And you know how these women's groups spread the good news like wildfire. Stealth corseting has surely become a huge hit with the ladies in various parts of the world.