Being a housewife is a challenging job. Homemakers are supposed to manage all the activities at their homes such as; maintenance of their house, managing budget, dealing with the kids' activities, handling kitchen and much more. In all this, they fail to manage time for themselves. If they get some spare time, they prefer to watch TV, read some book or meet their friends. These women forget to pay attention to their bodies and start gaining weight. You will hardly see a homemaker with the perfect body shape these days.
Hence this is the reason; they also face health issues very often. Several hormones play the part of belly fat triggers. They may claim that they do not get time to go to the gym every day to keep themselves fit and healthy, but there is always an alternative. Those who find it hard to leave their place and join some training classes can make it work at their homes. There are some exercises they can easily do at home, and such exercises do not even require plenty of time. These exercises are beneficial and can reduce excess fats quickly.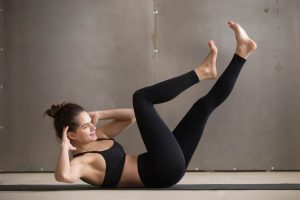 Belly fat does not only make your body shape ugly but also brings health problems. Getting your fat burnt is not just about having a perfect body shape, you need to do this to goodbye many dangerous diseases. Most of the health problems are due to abdominal fat because of its position in the body. Belly fats weaken the abdominal muscles and can cause death because these muscles have control on our other body parts.
Research has shown that the women having the waistline of more than 35 inches may have the risks of heart diseases and high blood pressure. Low belly fats mean that there are fewer chances of suffering life-threatening diseases. If you are the one who is having the excess fat on your midsection and abdominal part, start losing it now. If you are a housewife and don't have time to go to a gym, you can workout by yourself at home. Here are six fat burning exercises that you can efficiently practice at home to make your ugly belly fats disappeared.
1. Crunches
Crunches are very useful and burn your stubborn belly fats fast. It helps to reduce the growth of fat cells. Hence this is not hard to do. All you need to do is to: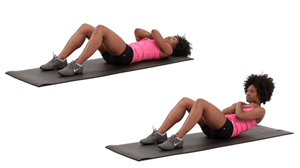 Lie down straight, bend your knees, and keep your feet on the ground. You can also do it the other way where you lift your legs at 90-degrees off the floor.
Your hands should rest behind your head, or you can cross them on your chest.
Inhale deeply while getting your upper torso off the floor, and now exhale. Inhale again while putting yourself back down, then exhale.
Repeat the process and do it several times. You can do it ten for times as a neophyte. Increase the numbers after a few days of practicing.
Make sure you are not hurting your back while raising your back from the ground and do not put pressure on your neck. Your back at 30 to 40-degree angle is good enough to exert pressure on your abdomen.
2. Twist Crunches
Once you get acclimated to the regular crunches, now you can switch over twist crunches that are more effective tummy exercise than the regular one. All of this is almost the same as regular crunches with a slight change in position while lifting the torso.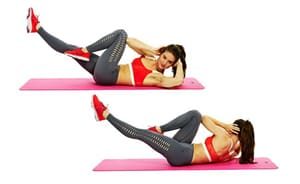 Resting position is the same as other crunches, lie down with the back straight and hand hands behind the neck.
Arc your knees and feet should be on the floor.
What you have to do next is to lift the upper torso while lifting your right shoulder towards left and your left shoulder toward the right.
You have to keep one side of your torso on the ground while lifting the other.
Start with ten times in one set.
3. Up and Down Leg Meltdown
Up and down leg meltdowns help you activate your leg muscles and muscles in the upper part of your stomach. To this exercise you have to: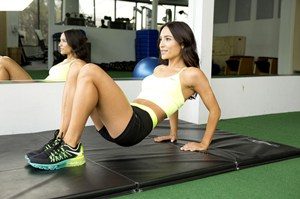 Rest straight on a mat.
Raise your legs and hips upward toward the ceiling and Inhale deeply and lift your upper body towards your tummy.
Do the exercise for 10 to 15 times if you are a beginner.
4. Bicycle Exercise
Cycling has proved to provide physical strength and reduction in health hazards. All of this is very easy and fun to practice. The health benefits it offers are numerous. It is a good muscle workout and excellent for strength and stamina. It decreases stress level and increases the flexibility of your muscles. It also reduces all unnecessary body fats of your body. As a housewife, you may not get time to ride a bicycle on a daily basis. For that, you must go for bicycle exercise where you can do this with a bike.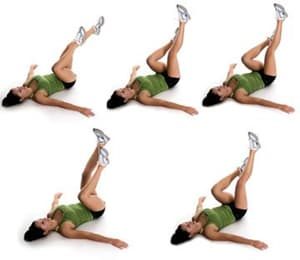 Get your body rested on the floor mat with your hands behind your head.
Raise your both legs from the ground and bend them. Bring right knee close to the chest while the left knee a bit away. Now repeat the process with the right knee.
It looks like peddling a bicycle when you do it repeatedly.
That is how you practice a bicycle exercise without a bicycle.
Plank exercises are also one of the most effective practices. Planks strengthen your abdominal muscles and help you reduce visceral fat. It burns your calories and enhances metabolic rate. Keeping our back straight during the exercise enables you to maintain the posture. It also provides mental benefits like treating anxiety and depression.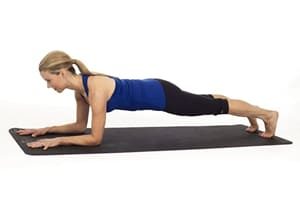 Set yourself in a position where your knees and elbows are lying on the ground.
Neck and spine should be appropriately aligned.
Lift your knees up and let your toes support your legs.
Breathe normally and say in the position for almost 30 seconds.
There is likewise an alternative way to perform planks. In that; you have to support yourself on one leg and one arm.
Rest on the ground sideways.
Support your body with the elbow perpendicular to the shoulder and left leg with the right leg resting on it.
Keep your knees straight, and do not let your hips touch the ground.
Hold it for 30 seconds. You can do this on either of the sides.
6. Jogging
Jogging is very popular physical activity. It is a great fat burner. It does not only bring your body into shape by burning your fats but also keeps you fit and far away from many dangerous diseases. The health benefits it provides are incredible. It builds your bones strong and strengthens muscles. It reduces your fats and helps you maintain a healthy weight. If you have just decided on shedding some extra weight through jogging, start with a speedy walk. If you add one or two other exercises with jogging, it can give terrific results. Some tips for jogging are: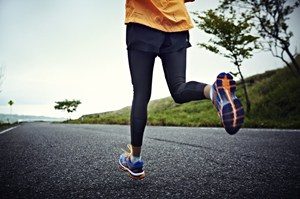 People who have medical conditions should refer their doctors before doing this.
Drink sufficient water during your jogging session.
Choose a grassy and flat area to avoid injuries.
Choose loose cotton clothing.
The pair of shoes you wear should be appropriate for this purpose.
Don't forget to apply sunscreen before leaving.
How to Accelerate the Process of Losing Belly Fat?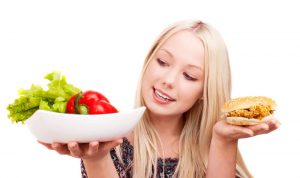 It may take much time to get a perfect body shape if the diet you are considering is not healthy. If you are doing exercise on a daily basis and drink much alcohol, eat a great amount of processed food, and eat bad fats, the exercise you do is not of any help. If you want to lose extra fat quickly, try to consume fat reducing foods.
Healthy eating habits keep you away from many deadly diseases. Make green leafy vegetables your best friend. Vegetables like kale, spinach, lettuce, and chard are very healthy as these are rich in iron, calcium, vitamin A, and vitamin C. Regular consumption of protein in the morning is very powerful. Its deficiency can make your metabolism rate go down. Take sugar and junk food out of your diet. Drink water a much as you can and keep yourself hydrated. Green tea is also one of the fat burning foods. You can also eat nuts, but almonds suppress hunger.
2. Get enough Rest and Sleep
Studies have shown that people who don't get enough sleep tend to gain more weight, which may result in excessive belly fat. So you need to sleep at least seven to eight hours per night to get quality sleep.
3. Keep Track of Your Food Intake and Exercise Routines
Keeping a food diary or downloading a food tracker app can help you monitor your calorie, carbohydrate, fiber, protein and micronutrient intakes. At the same time, you can also keep track of all your physical activities, which will help you lose weight.
4. Take Apple Cider Vinegar
Apple vinegar plays an essential role in health benefits. But did you know that it contains has a compound called acetic acid that has been proved to reduce abdominal fat storage? So ladies, why not try adding apple cider vinegar to your diet? Taking 1-2 tablespoons of apple cider vinegar per day is safe for most people and may result in moderate weight loss.
5. Wear Waist Trainers while Working out
Waist trainer is one of the best tools to get you an hourglass figure. This item lets your body compress and reduces your waistline. A variety of waist trainer is available on the market. Wearing waist trainer while working out can make you look perfect in a very short time. Make sure you are choosing the right type for you because some shapers are not designed to wear during a workout.
[Read more about Waist Trainer]
Some of the best waist trainers are as follows: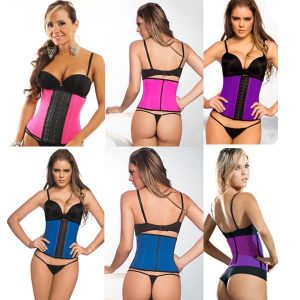 All of this is ideal to wear during exercise because the stuff it is made up of is very comfortable. The inner side of the trainer is designed with cotton fabric while the outer layer is of latex. All of this is perfect to fulfill your purpose of maximizing the workout.
Hourglass Angel waist trainer
Hourglass Anger waist trainer is another option to accelerate your workout. This trainer offers to shed 2 to 3 inches in just 30 days. The result is quicker if you partner this shaper with proper exercise. This latex-made trainer can surely give an hourglass figure. The key to best results is the exact measurement of your size.
Conclusion
Extra fats can promote incredible health risks. The best way to get rid of these fats is doing vigorous exercises. Eating excess fats and unhealthy food promotes fat storage in our stomach that leads to ugly belly shape and artery plaque accumulation results in severe heart diseases. Countless miracle pills and fat burning machines cannot do what these exercises can do. These exercises will not only keep you fit and strong but also improve the complete sleep cycle. If you are a housewife and want to maintain your health, try above-discussed exercises.