Seeing famous people with the fabulous figure, a lot of women complain about their weight, but only a few really do something about it. Waist training is a popular and effective way, especially welcomed with famous people. Therefore, beauty-loving women have begun to imitate them.
You cannot leave anything to just waist training, and besides, if you feel bloated, you will not be in the mood to wear your corset. You must embrace a state of mind that is ready to accept these changes just like Hollywood celebrities like Kourtney and Jennifer Lopez.
Two Prime Examples of Waist Training Success
1. Kourtney Kardashian
Nobody can stop a woman full of determination. Such is Kourtney Kardashian on her winning waist training strategy. She has been flaunting her sexy and curvaceous body on social media for the world to see. She is confident and beautiful, and even if she just experienced heartbreak, it doesn't show. Her attractive body is the result of strict dieting and hard waist training. You can see her wear her corsets as she posts several pictures on her Instagram account.
Her personal life is rough, but she is pulling through even if she has to raise three kids on her own. She is grateful for her trainer in guiding her so she can lead a healthy lifestyle. Kourtney follows an organic diet regimen, and she is an avid waist training. She wears waist cinchers for 5-8 hours a day. If that isn't dedication, we don't know what is. What's great about her approach to fitness is the fact that it is holistic and it targets her body, mind, and spirit. She also performs Yoga poses to meditate and keep her body lean and balanced.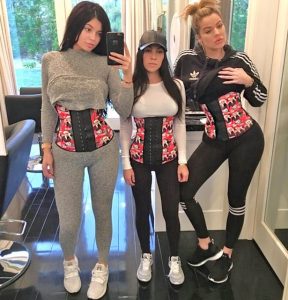 Even during her pregnancy, she made sure that she took care of her body and her health. She stuck with a well-organized organic diet to get the most out of her food. As a result, her children are born healthy. Kourtney doesn't like complacency, and she watches everything she eats to be in top shape. Her Yoga workout regimen is regular, and she actually enjoys it. We think that's the secret to why her healthy lifestyle suits her. And many people can't get the best results because they are not as severe as Kourtney in getting results.
2. Jennifer Lawrence
Have you seen Jennifer Lawrence's body? She also follows an adequate physical and mental regimen.
When you do waist training coupled with great exercise and diet, you will notice that your entire lifestyle changes and your stress level tend to become lower. There are so many benefits to maintaining a healthy body that there doesn't seem to be any excuse suitable for us to use. You should shape up naturally.
Workout regimens and thin-spiration ideas abound, and you should take advantage of them. Take a look at Jennifer Aniston and how her body is still firm and sexy even at her age. It takes discipline to be that attractive. On a physical and mental level, she seems to be on the right path. She is happy, light and looks glowing!
If you are thinking about dieting as well, consider the organic diets of Jennifer Aniston or even Jessica Alba. They are big fans of green, leafy vegetables. Since diet trends are famous, you can also take your pick from vegan and paleo which contains low carbohydrates. Find alternatives to the sweets that you eat. There is healthier food that will make your skin glow and your body firmer and more radiant.
Of course, waist training is one of the effective ways to lose weight, and if you have figured out your diet preference, you should also select a waist training method that suits you. You can just wear corsets on a daily basis as you monitor your weight loss. It is also possible to incorporate an effective exercise regimen while wearing waist cinchers. Waist training is convenient for many celebrities, and when you see their Instagram posts, you will only be inspired to jump on the bandwagon. It has become an exceptional phenomenon.
Since you already know how Hollywood celebrities maintain their sexy bodies or gain back their ideal weight after pregnancies, it's crucial that we teach you how to follow in their footsteps.
Choose the Best Waist Trainer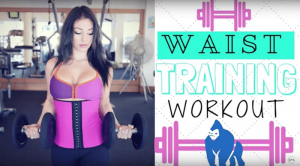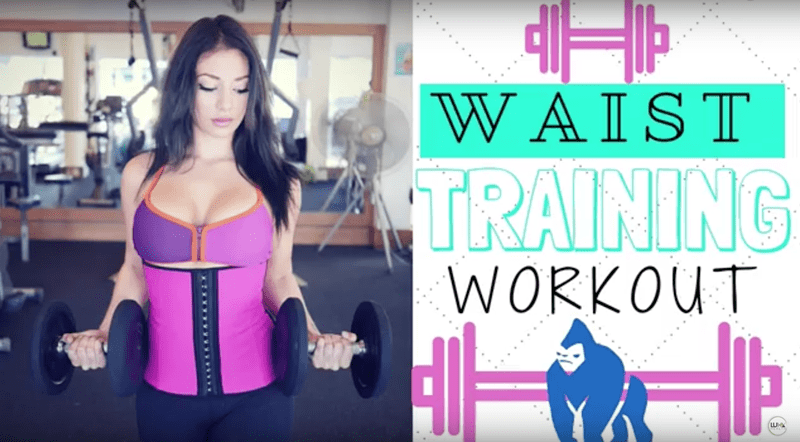 There's no one-size-fits-all solution to women when it comes to losing weight, which is entirely accurate when you are looking for the most suitable waist trainer for your body. Your sister's corset may not be perfect for you. Your friend's waist cincher may suit her but will be loose on your body.
Therefore, you have to shop for your waist trainer or corset. It is recommended that you try it on at the store and ask an expert's opinion before you purchase. It will take some getting used to, but if you find a waist trainer that fits your body, you will not have any problem wearing it day in and day out, for several hours each day.
1. Feel Its Material
Make good use of your skin to choose a comfortable and high-quality waist trainer.
The comfort of the material can be felt directly through the touch, or you can choose the content you like. Besides, the better the quality, the heavier the corset will be, and you can compare two separately on your hands.
2. See Its Sewing Skills
High-quality corsets will be double-stitched rather than single-stitched. In such cases, it will also be twice as boned and lined as the single-stitched one, making it more durable and more washable. To ensure this, you may want to check each suture.
3. Make Sure It Has a Sheltered Lining
Keep in mind that the linings of the top corset are hidden. Check that the wait train sewing is all internal rather than open to avoid allergies and discomfort caused by the lining touching the skin, and also to prevent seams from breaking and deteriorating quickly.
4. Pay Attention to the Hooks
Different size, thickness, and spacing of hooks will bring different experiences. For size issue, you can choose your favorite according to your usual habit of using a bra. Thick hooks are stronger and more durable than thin ones. Finally, the small spacing ones can be adjusted more finely than the large spacing, meaning you have more size options.
Adjust to the Trainer or Corset
If you think corsets are comfortable upon first use, you're wrong. It will take a few hours or even a few days or weeks before you get comfy and can wear a corset for a long time. As you try it on, you can have a close friend look at the fit because sometimes, you will miss seeing a flaw that she can see. Breathe smoothly and correctly when you are wearing a corset so that you can gauge if you can wear it for a long time or not. Some designs are complicated, and they might not suit you. You can have a customized corset for your body. It depends on your tolerance level as well.
Schedule Your Waist Training
Don't go to battle unprepared. You need to make a timeframe of your waist training. When to start, how many hours per day and how long do you think it will show results? These are essential questions worth asking at the beginning.
It is best not to wear a corset until you understand the risks of the waist trainer and make up your mind, as good results do not allow you to hesitate. When you jump into your waist trainer, the first week is your debugging phase. Then insist on wearing 8-10 hours a day and keep it for at least eight weeks.
Don't be complacent at any time because your starting point should be recorded to learn if you are making any progress. Remember that when you make a significant improvement, you will also be motivated to continue.
We hope the journey of celebrities toward weight loss and a healthy lifestyle has served as an inspiration to your waist training challenge. Your entire lifestyle will experience a makeover as you choose the diet and exercise that will complement your waist training.