Are you no longer able to zip up your favorite pair of pants because of that extra fat around your waist? You can no more wear that sexy body-hugging dress because of those love handles of yours? Why are you still worrying? Take out all those clothes which you couldn't wear till now. Haven't you heard about shapewear or do you believe that it is just an uncomfortable belt?
You need to update yourself with time as shapewear is a real miracle which could transform your appearance in minutes.
Now you can take out all those tight jeans which didn't fit you before and wear them quickly now. You would have never thought that you could look so much better in those jeans. Wear that body-hugging dress of yours with confidence and get ready to look sexier than ever. Shapewear is going to make you look good in everything you will wear, and now you don't have to think twice before wearing anything.
What Can Shapewear Do?
Shapewear can also be called foundation garment or shaping underwear, including a variety of colors, shapes, styles, types, patterns, and brands. What exactly can it do? Here are four common reasons why people like to wear shape wears.
1. Provide Support
It can support well in the waist, back, and chest area, and even bring the effect of bust pushing up. The support it provides is soft, comfortable but sturdy.
2. Stop Fat Accumulation
One of the greatest fears of most women is fat hoarding. In addition to controlling diet and strengthening exercise, you can also seek help from shaping underwear with micro – mass technology, which at least gives you a fat-free appearance.
3. Hourglass Appearance for You
Since shapewear can help hide any excess fat or bulge in your body, your appearance will look smooth with it. In situations where diet control and fitness exercises can't show quick results, foundation garments can immediately give you confidence, especially when you need to participate in relevant activities.
4. Boost Your Blood Flow
Incredible? Indeed, a number of studies have shown that specially crafted shapewear can help increase thermal activity in the core of the body, helping improve blood flow and remove toxins from the body, and to some extent, this will also lead to some weight loss effects.
Top Four Shapewears for You
1. Vedette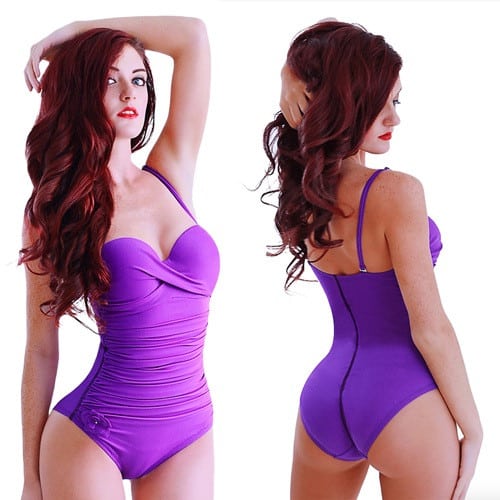 Vedette is the most popular shapewear which you need to add in your closet. This shapewear has a firm control because of its front hook and eye closure. In Columbia, this shapewear is popularly used after liposuction. The wrap design is used in various shapewear brands which is the easiest shortcut to get an hourglass figure. This bodysuit is designed with the open bust area thus allowing you to wear a bra of your choice. There are a closure and straps that could be adjusted according to the comfort at the panty area. This must-have shapewear clothing is available on Amazon at a price of $61.
2. Flexees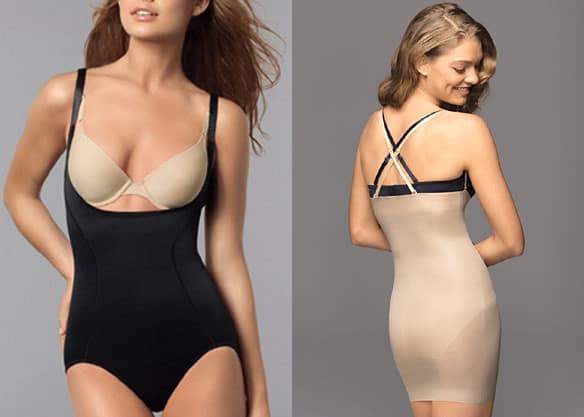 Flexees shapewear has a design which doesn't conceal it entirely but makes it look great under your regular clothes. The tank provides a firm control around your midsection and shapes and slim the body. It is available in two colors with a bright, soft sheen fabric. The must-have shapewear item for women is available in black, heather grey, hot chili sparkle, sparkle black, latte lift and white. The material has 87 percent Nylon and 13 percent Lycra spandex available at a price of $24 available at Amazon.
3. SPANX Higher Power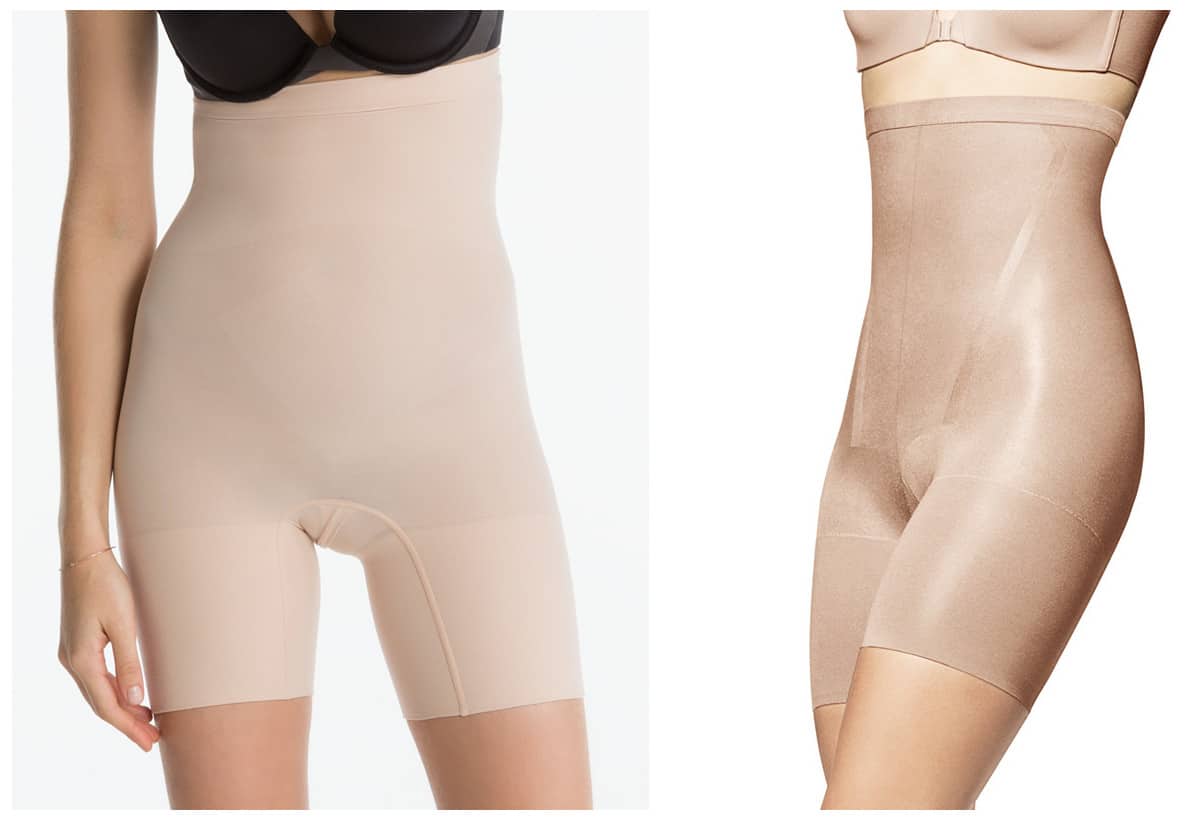 SPANX Higher Power line of panties is designed in a way that the original waist size of the Power Panties is extended till the bust line. This product has resulted in a smooth line from the thighs, hips, waistline reaching the midriff area below the breast. The SPANX panty will take care of any lump in the cellulite and will smooth the tummy firming the inner thighs and rear. It is made out of 87 % nylon and 13 % Lycra spandex thus making its fabric breathable. The waistband of this shapewear will stay at same place. The shapewear item for women is available in bare and black colors and lots of sizes. It is available at a price of $28.
4. Leonisa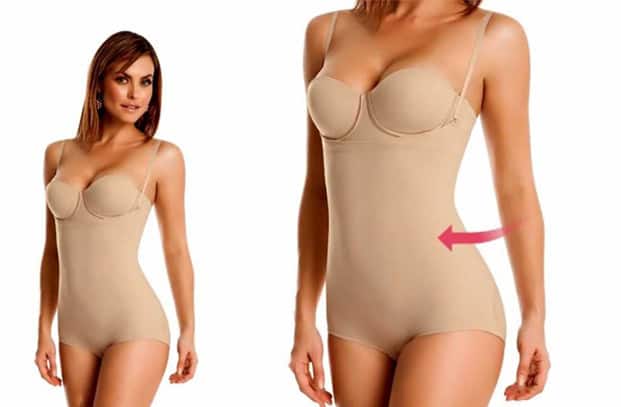 Leonisa is another hot brand name amongst the women's shapewear. The exciting line of shapers is designed to meet most of the requirements of the women making it a favorite piece of all time. The bodysuit shaper is to be worn without straps ending right at your knees. The shapewear provides compression at various body areas. The body shaper is created with SkinFuse, a technology which makes the shapewear almost invisible under your clothes and thus nobody knows you are wearing it. It is available at a price of $30 at Amazon.
If you feel that you don't need the Spanx treatment around your thighs and bottom, then this particular top will help to slim you down around your stomach. The band at the bottom sticks to its place and doesn't ride up like others, and you can wear any of your bras with it. It is also available in a dress version and has a price of $41 on Amazon.
There are Slimming panties that are merely panties which are designed to compress the area around the belly and rear. They don't provide compression around the thigh and waist area. They are popular despite the fact that they offer less control than a mid-thigh waist shaper as they have the appearance of usual underwear. You can wear them every day and are available on Amazon at $44.
You can become two dress sizes smaller instantly with this effective waist training corset. You just have to wear this HrGlass waist training corset, and you will get a slimmer and sexier curvy figure! If you wear it with a proper exercise routine, you will be able to enjoy the real benefits of waist shapewear. You can increase your overall confidence; correct your posture, etc. with this shapewear available at Amazon at $20.
The Risk of Shapewear
Shapewear work by compressing the body, which can lead to breathing difficulties, acid reflux, tingling, heartburn, muscle damage, organ displacement, blood clots, nerve numbness and even urinary incontinence. Therefore, to avoid the impact of excessive compression by shapewear, it is recommended that you do not wear it too tight and too long, and limit it to eight hours or so a day.