Importance of Corset Accessories 
After purchasing the corset, you need to purchase some accessories to make your corset look outstanding. One can customize the corset; you can buy different hot lace, some garters to match with your corsets to make your look transform from hot to incredibly scorching. You can buy corset liners to extend the shelf life and durability of your corsets; alongside keep your corsets clean by wearing the liners and prevent your skin from friction. One can add garters to make your stockings more beautiful.
Accessories help the women feel young and beautiful therefore it aids in elevating mood.
Right accessories contribute to creating magic with the necessary corsets.
Accessories help you take your personality to the next level and amplify it.
Accessories are easier and cheaper to purchase, they save time and money, and you do not need to make large decisions before buying accessories.
You can create new looks with different accessories on the same corset.
Accessories can act as a conversation starter; you can complement the beautiful accessories of an individual and create a conversation by inspiring their look.
Seven Non-Obvious Corset Accessories and How Can They Complete Your Look?  
When you choose a corset for the first time, provided to you are set of accessories. For instance corset liners other than that you need to buy other accessories which make your lacing easier. Therefore following is the list of other necessary accessories that you may buy:
1. Spare Laces/Ribbon Standing By  
Many individuals think that they should purchase new laces so that they can switch colors or change the laces which were present with the corset set. You should always buy spare laces for keeping them for future use so when in need you don't run short of them. Corsets require multiple laces to tighten it as you can not tie it with a single or double lace nad join the two ends. Laces which tie the corsets have an incredible amount of pressure acting on them so you should tie it properly otherwise it will loosen up at an inconvenient time. You should always have a backup pair of laces with you. If you do not have a store nearby, then order the laces online. It is preferred to buy polyester braided flat laces or double-face laces made up of satin, so they hold the corset in place.
2. Corset Storage Bag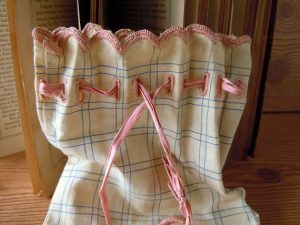 Corset storage bags are incredible for storage or gifting purpose. Corset bags protect your corsets from getting dirty or getting damaged. Corset storage bags are readily available in two sizes. One for over bust and the other for under bust. For the extended cut corset, you can use any size of the bag, but it is recommended to buy the over bust one. They measure a width of around 4-5 inches, height 2-3 inches and 17 inches length for over bust corsets and 14 inches length for underbust corsets.
3. Garter Straps
Corsets comprise of garter tabs sewn at the bottom part of your corsets so that garter straps can be easily attached and hold on your stockings. These straps are ¾ -1 inch wide and are readily available in white or black color. The metal slider is used to adjust them for up to 7.5-8 inches length when relaxed; they are elastic in nature making them easier to adjust. These garters comprise of metal parts so beware if you any allergic reaction against nickel.  Slim silhouette which is the older ones comprises of 4 garter tabs, on the other hand, the newer ones which are hourglass shape comprise of 6 garter tabs.
4. Modesty Panel 
A modesty panel is an oblong or rectangular shaped fabric piece which adapts to your back and is present underneath the laces to prevent your skin from undergoing friction which occurs due to the laces. It also helps to conceal the liner or skin from being shown through the laces. All of them hence helps to keep your skin from getting rashes due to tight hold. The modesty panel comprises of two finishes one with black cashmere finish while the other one with the white satin finish. The standard length of modesty panels fit the typical ranges of under bust corsets while the cincher length fits with the hourglass corsets.
[Read more about Hourglass Corsets]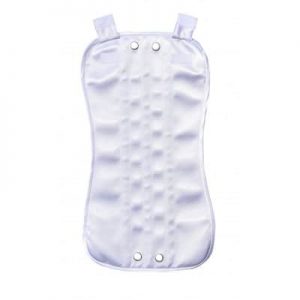 The modesty panel comprises of several fabric layers sandwiched in between the steel bones to prevent any wrinkles in the panel while you lace up. You can use the modesty panel in three ways:
By suspending it with grommets or relacing the corset. Such a position of the modesty panel in the center along with back alignment and prevents the modesty panel from getting lost or sliding down while you take off the corset.
You can use the Velcro straps for quickly attaching and detaching the modesty panels over the laces.
Just slide the modesty panels in and out beneath the laces without using grommets or Velcro straps.
5. Corset Liners
Corset liners are breathable, stretchy tube tops which start from the breasts lowering down to the hips. You can wear corset liners between your corset and skin. Corset Liners helps too; prevent the skin from getting sore spots, prevents the dirt, sweat, and moisture from collecting underneath the corset. Try to keep your corset as clean as possible so that you do not need to wash it repeatedly and the corset persists a long life. Corset Liners are available in two colors black and white. The corset liners completely stretch and fit your waist along with contraction underneath your corset. They are made up of a combination of 40% polyester, and 60% cotton which helps you feel at ease. These liners need to be tumble dry and allow machine wash.
6. Sponges or Memory Foam  
Thick makeup sponges or original variant sea sponges are easily accessible. Sometimes the corset busk is at a length where it digs into the plexus. To solve this problem, you should stick a sponge under the bone or corset busk so that it does not pinch your skin. Sometimes a sore spot may be felt due to the bones corset busk so try keeping a pad near the area so that it does not impinge then. Hence this helps to solve any irritation that you can feel.
7. Fingerless Gloves 
You need to tie your waist corset tightly to achieve the best results but tightening the laces further may cut your hands too much so to avoid that you need a pair of fingerless gloves. Your hands might get sores if you try to reduce an extra inch while tightening the corset by lacing down. The fingerless gloves help prevents chafed or sore hands. However the fingerless gloves are bit expensive, so you should buy a proper one to avoid cutting your hands otherwise the cheaper ones may stain your hands and not last long. They are most important for sale girls working in corsetry store where they need to work day and night by lacing up the corsets on customers.
Conclusion
After going through the article, we hope that you have understood the need to purchase these beautiful and useful accessories mentioned above. You can also achieve incredible benefits by adding accessories in your closet along with the corsets to increase their durability and shelf life. Hence helping you save money by increasing the lifespan of your corset.